iPhone 6 Plus vs Galaxy Note 4 speed test nail biter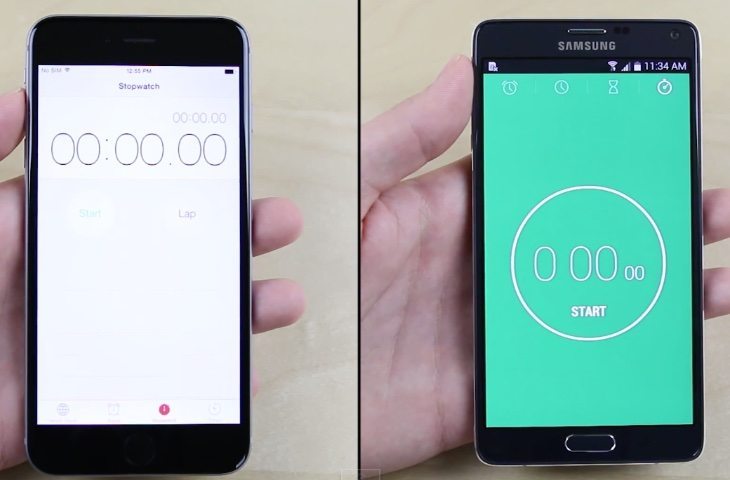 The Apple iPhone 6 Plus and Samsung Galaxy Note 4 are two of the most popular mobile devices at the moment. Both have recently released and have large displays, and a distinguishing factor is the respective iOS and Android operating systems. Today we have a video to share of the iPhone 6 Plus vs. Galaxy Note 4 in a speed test nail biter.
We've already shown a specs and price comparison of these two phones, so if you're interested in more you can check that out at the above link. These are both top-flight devices, so it's always interesting to see how they stand up to each other speed-wise. The iPhone 6 Plus released running iOS 8, now upgradable to iOS 8.1 while the Galaxy Note 4 runs Android 4.4.4 KitKat, which will be upgradable to the new Android 5.0 Lollipop version at some point.
Beneath this article we've placed a YouTube video from PhoneBuff that shows a short speed test involving both phablets. For consistency both phones have been freshly rebooted and are connected to the same WiFi network. The resulting speed test is really interesting as the phones are shown alongside each other and put through exactly the same paces.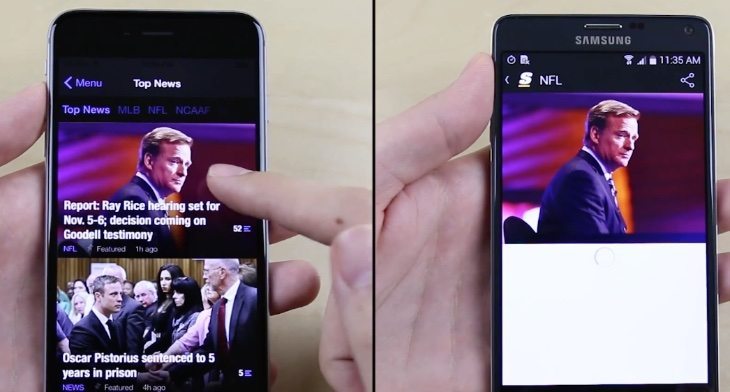 The first part of the testing involves heading into the stopwatch then the camera app, Gallery and Settings apps, before Ice Rage and Temple Runs 2 games and further steps. In the early stages the Galaxy Note 4 takes the lead before the iPhone 6 Plus moves ahead, but by the end of this first lap the Samsung phone is ahead of the Apple handset by around 10 seconds.
The second lap is a little more complicated as it also tests the multitasking abilities of the phones. This time the final result is much closer but we don't want to give away which phone was faster here, as you might prefer to find out when you view the video below. When all is said and done the results are unlikely to make you choose one of these phones over the other as that is more likely to come down to preference of operating platforms.
Nevertheless, this type of speed testing does give food for thought, and you might also be interested in a recent boot-up speed test of the Galaxy Note 4 vs. the Note 3 and Note 2. When you've checked out the video below it would be good to get your opinions.
Are you surprised at the overall result of this speed testing on the iPhone 6 Plus and Galaxy Note 4, or is the outcome exactly what you expected? Drop us a comment in the box below to let us know.