Nexus 6 India price confirmed on Google Play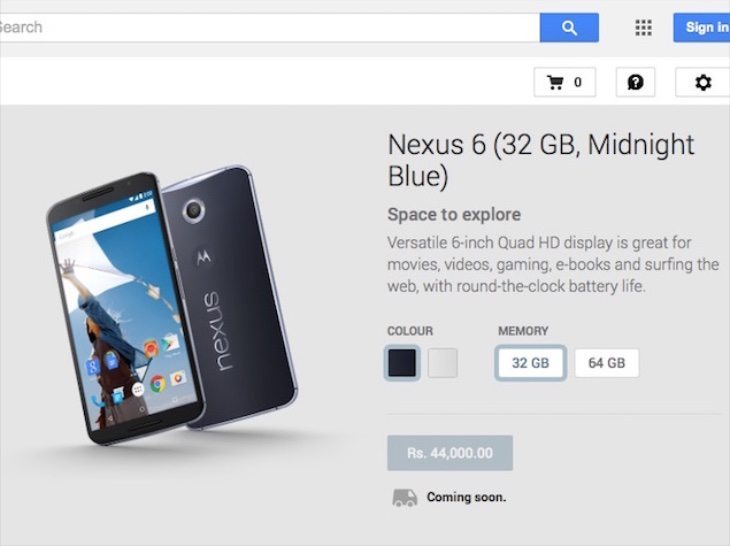 It was only a few days ago that we shared some price indicators for the Google Nexus 6 for India. If you've been waiting for more concrete news then we have that for you today. The Nexus 6 India price has now been confirmed on Google Play, although at the moment it's still listed as 'coming soon.'
Three days ago we gave some info from a Google press event in India that the Nexus 6 made by Motorola would be launched in India by December 10 at the latest, or possibly in November. A price pointer was also given of between Rs. 44,000 and 50,000 with the 32GB model being at the lower end and of course the 64GB model the more expensive.
Flipkart also listed the Nexus 6 as 'coming soon' but with no firm price shown, and at that time the phone wasn't showing up on the Google Play Store India. Now the phone is proudly displayed on the India Google Play Store and official prices have been given. The 32GB Nexus 6 price for India is Rs. 44,000 while the 64GB version is confirmed at Rs. 49,000, and the phones are available in Cloud White or Midnight Blue colour options.
These prices make the Nexus 6 more costly for India than the equivalent prices for the US that equate to around Rs. 40,000 and Rs. 43,000 respectively, and that could lead to some complaints from potential buyers. Google Play India doesn't show any shipping dates for India yet, but as the price has now appeared it's suggested that the phone could be available within the next couple of weeks.
If you're considering purchase the Nexus 6 you might like to take a look at a recent comparison of it against the Samsung Galaxy Note 4. If you've been waiting for the confirmed Nexus 6 price for India what do you now think about the official prices? Has the cost made you think again about buying this phone? We always appreciate your comments.
Source: NDTV Gadgets