HTC One M9 vs iPhone 6 speed race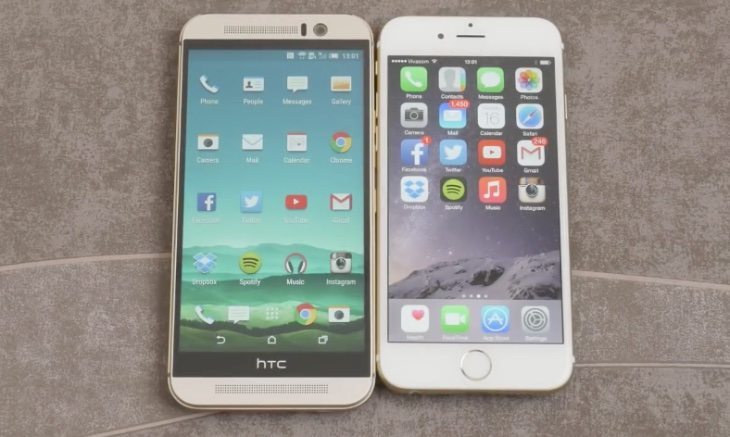 The Apple iPhone 6 is already over six months old and is still in demand. On the other hand the HTC One M9 released last month and plenty of fans of the line will make the smartphone another hit for the company. If you still haven't decided whether to buy the Apple or HTC handset, you might want to take a look at this HTC One M9 vs. iPhone 6 speed race.
As a preliminary some key specs of the One M9 include a Snapdragon 810 octa-core processor (4 cores at 2GHz and 4 at 1.5GHz), Adreno 430 graphics, and 3GB of RAM. It has a 5-inch display with resolution of 1920 x 1080 and runs the Android Lollipop operating system. Alternatively the iPhone 6 is powered by a 1.4GHz Apple A8 dual-core processor, with PowerVR GX6450 quad-core graphics, and 1GB of RAM. It has a 4.7-inch display with resolution of 1334 x 750 and launched on iOS 8, now upgradable to iOS 8.3.
We've previously shared videos showing a specs comparison of these two smartphones, as well as a camera comparison if you want to see more on either of these devices. Now we've spotted another video that we think readers might be interested in, and you can view it by scrolling down this page where we've embedded it for your convenience. It comes from Phone Arena and endeavors to find out which is fastest in real life usage, the One M9 or the iPhone 6.
To do this the reviewer puts both phones through their paces by launching a series of apps with the handsets shown side-by-side. In the introduction we hear that both have just been reset, have the same user accounts, and are connected to the same WiFi network. The Phone app is the first to be opened and you'll see this happening as well as a table down one side of the screen that shows the precise times it takes. In this instance it's the HTC One M9 that opens fastest with a time of 0.46 seconds compared to 0.60 seconds on the iPhone 6.
The comparisons goes on to open up 14 further apps, and just a few of these are Messages, Facebook, YouTube, Gmail and Instagram. On each occasion the times are added to the table to show which is fastest, with the time difference being larger for some apps than others and also the winner varying on numerous occasions. Ultimately the times are added up to come up with a final score and given the specs of each phone you may be surprised at the overall winner.
You can see for yourself when you check out the speed test below, and then we'd appreciate your comments. You may also be interested in a recent benchmark test involving the iPhone 6 and HTC One M9 as well as the LG G3, Sony Xperia Z3 and Samsung Galaxy S5.
Source: YouTube