iOS 8.4 beta 4 vs iOS 9 beta 1 benchmark speed on iPhone 6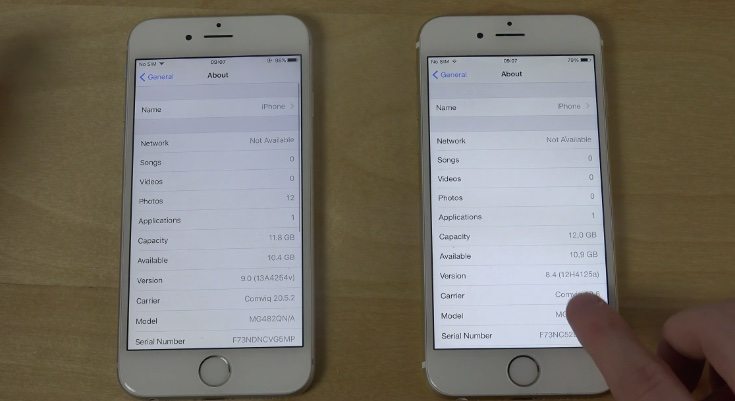 Apple's iOS 9 may be the biggest topic of the tech world at the moment, but before it releases to the public we'll see the release of iOS 8.4 at the end of June. Apple has just seeded the first beta of iOS 9 to developers, and just afterwards iOS 8.4 beta 4 was also made available. It can be interesting to compare different versions and today we're looking at an iOS 8.4 beta 4 vs. iOS 9 beta 1 benchmark speed test on the iPhone 6.
We already know that the public release of iOS 8.4 is set for the end of the month and focuses on the new Apple Music streaming service. The public iOS 9 release on the other hand will be ready to roll out in fall. If you wish, you can check out much more on some of the main iOS 9 features in an earlier post. Recently we shared a bootup speed test of an iPhone 6 on the previous beta of iOS 8.4 vs. iOS 9 beta 1. Now Apple has seeded iOS 8.4 beta 4 to devs for testing.
The latest beta of iOS 8.4 contains further improvements and bug fixes and has build number 12H4125a. The YouTube video that we've embedded below this post comes from Adrianisen and shows a benchmark test on an iPhone 6. On the left of the screen you can see an iPhone 6 running iOS 9 beta 1 and on the right the iPhone 6 running iOS 8.4 beta 4. The reviewer heads into Settings first to show that they are indeed running these versions of Apple's mobile operating system.
After encountering a problem with the Geekbench 3 test the reviewer chooses to use the AnTuTu benchmark test instead. Interestingly this installed quickest on the handset running iOS 8.4 beta 4. The test is then run on both devices, and the iPhone 6 on iOS 8.4 beta 4 achieves a higher score of 46,217 while the handset on iOS 9 beta 1 manages a lesser 45,500.
While it's easy to assume that the handset using the first iOS 9 beta should have managed a better result than the one on iOS 8.4 beta 4, we must remember that this is only the initial beta and performance is likely to improve with betas that follow. You can see the testing in its entirety in the video below so do check it out and tell us what you think in the comments box.
https://www.youtube.com/watch?v=lI_DFEDLpuE://