Moto G 3rd gen battery life performance compared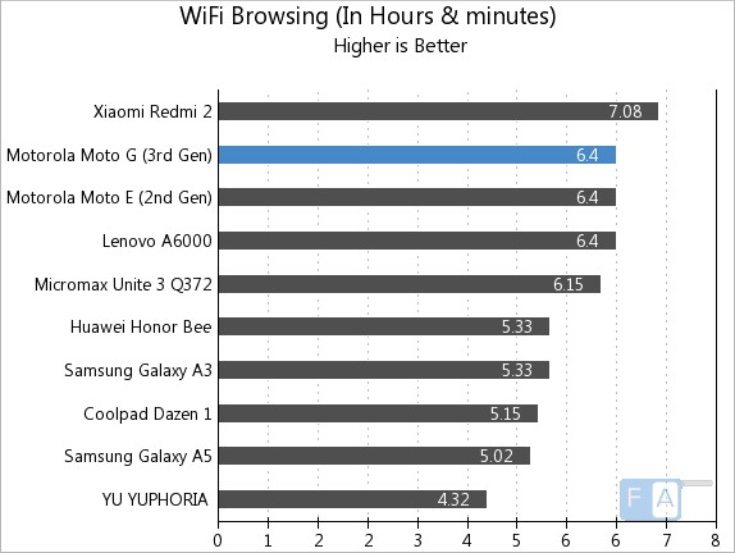 The Moto G 3rd gen recently released and is all set to be another hit for the company. More and more of us are heavy users of our devices, and battery life in a smartphone is something that is increasingly important to buyers. Therefore you might like to check out details of Moto G 3rd gen battery life performance and how it compares with some other handsets.
You can take a look at our launch post on the new Moto G 2015, and recently we gave our Moto G 3rd gen vs. Lenovo K3 Note specs and price comparison. The phone is equipped with a 2470 mAh battery, and the fact that it's non-removable makes it worthwhile considering the battery life before you make a purchase. Fone Arena has conducted its usual slew of new Moto G battery life testing, and this is split into four different categories. They are Talk Time, 3G Browsing, WiFi Browsing, and Video Playback.
The results are then compared with many other smartphones in a similar sector of the market. Just a few of these are the Moto E 2nd gen, Xiaomi Redmi 2, Micromax Unite 3, Lenovo A6000, Samsung Galaxy A3 and Galaxy A5, and Yu Yuphoria. It's often interesting to see how smartphones compare in one particular aspect, and this will give you a good idea of whether you should think about the Moto G 3rd gen as your next purchase.
In the Talk Time section the Moto G 3rd gen battery life lasted for 25 hours and 2 minutes. That put it in joint second position on the table (image immediately below) alongside the Coolpad Dazen 1, Redmi 2, and Lenovo A6000. Only the Moto E 2nd gen beat it, with a whopping first-place time of 33 hours and 19 minutes. Meanwhile the Yu Yuphoria was bottom of the table on just 8 hours and 20 minutes.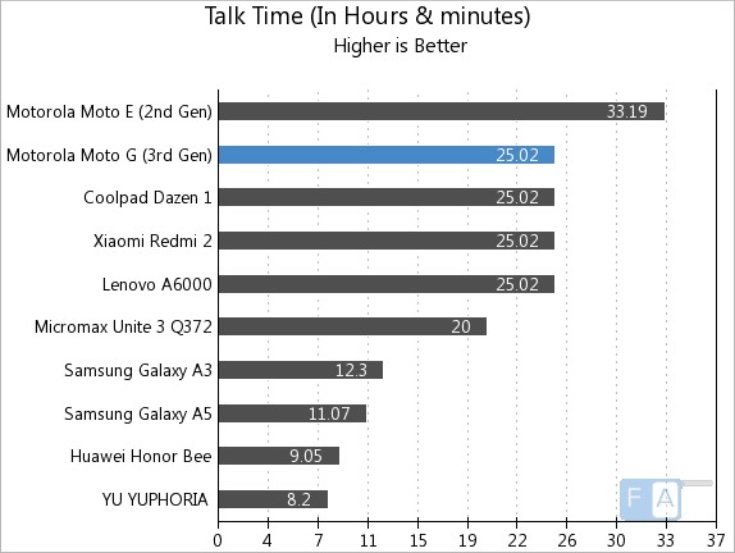 For 3G Browsing the Moto G 3rd gen tied with the Unite 3 on exactly 5 hours. Top spot was taken by the Coolpad Dazen 1 on 5 hours and 53 minutes, and then in joint second place was the Redmi 2 and Moto E 2nd gen on 5 hours and 33 minutes. Again the Yuphoria trailed behind all of the others with only 3 hours and 2 minutes.
Moving on to WiFi Browsing, the Moto G 3rd gen managed a respectable joint second place on the table (image below). It achieved a time of 6 hours and 40 minutes along with the Moto E 2nd gen and Lenovo A6000. Top position was achieved by the Redmi 2 on 7 hours and 8 minutes. Once again the loser was the Yu Yuphoria on only 4 hours and 32 minutes.
For the final Video Playback category the Moto G 3rd gen again managed to attain joint second spot with a time of exactly 10 hours, the same as for the Redmi 2. This time the Coolpad Dazen 1 was the winner on 11 hours and 7 minutes. For a change the bottom spot was taken by the Huawei Honor Bee with a time of 5 hours.
For the full results, table images, and also Fone Arena's One Charge Rating for the Moto G 3rd gen, head to the source below. For the One Charge Rating the new Moto G managed a notably better result than for the Moto G 2nd gen, and all-in-all we'd say that battery life is pretty impressive for a phone in this sector. You may also like to check out recent benchmarks and a gaming review for the new Moto G 2015.
Are you now satisfied that the Moto G 3rd gen battery life is good enough for your requirements? Do let us know with your comments.
Source: Fone Arena