Galaxy Note 5 drop test, to case or not to case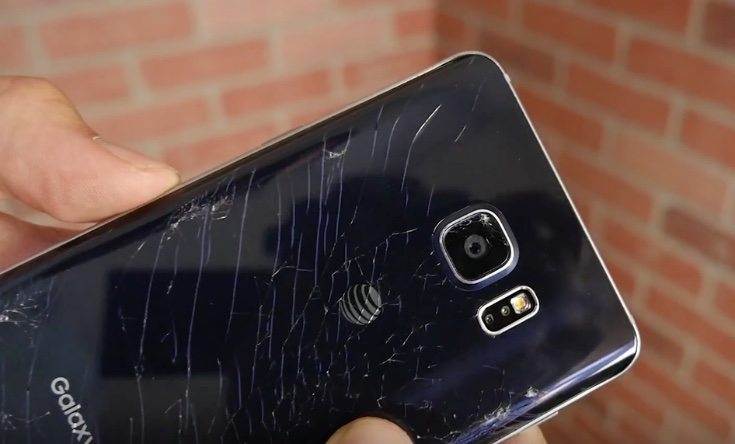 The Samsung Galaxy Note 5 is generating plenty of talk since being made official last week. It's about to release to various regions worldwide and this time around has a stylish new look that wows. However, the new design may mean compromises elsewhere, especially if you're concerned about robustness. Take a look at this Galaxy Note 5 drop test, which brings up the question, 'to case or not to case?'
In our article from the launch we gave details of specs, and some potential buyers have expressed disappointment that the new Note no longer has a removable battery and lacks microSD expansion. A dual SIM Note 5 was also confirmed yesterday, but sadly also without a microSD card slot. Despite this the sophisticated new design has won plenty of admiration, with a metal and glass unibody build giving it a very premium appearance.
The Galaxy Note 5 also has slimmer bezels and an ergonomically curved back, but style sometimes comes at a price, and durability may have been compromised. In the YouTube video below you can see possibly the first Samsung Galaxy Note 5 drop test courtesy of PhoneBuff. The testing involves a professional drop test machine to get accurate and consistent results.
It begins with dropping the Galaxy Note 5 on its reverse from a height of 1 meter on to a tile. The back cracks straight away, just as with previous testing on the Galaxy S6. In fact the spider-webbing effect is more evident with the Note 5, although the cracks are not on the top layer of glass. The test is then conducted again from the same height onto the Note 5's side, and this time there's little damage. Next the phone is dropped from 1 meter high onto its front. Once again the glass is cracked but the phone is still working.
The next set of testing drops the device from concrete, also on the back, side, and front of the handset. You can expect more damage this time and can see the results when you watch the video. One thing we will say is that the phone fares better than the Samsung Galaxy S6 in PhoneBuff drop testing. However, it was beaten by both the HTC One M9 and iPhone 6 in the drop test performance chart shown at the end of the video.
Ultimately if you're going to invest a lot of money on the Galaxy Note 5, it might also be worth spending a bit more on a suitable case to keep it protected and looking good. However, some will feel that would spoil the new styling anyway and might prefer to take their chances. If you're still wondering whether to upgrade to the Note 5 or not you might like to check out a recent upgrade reasons video that we shared.
What do you think of the drop test results for the Galaxy Note 5 shown in the video below? Are you more inclined to safeguard the phone in a case or would you rather take a risk to benefit from its new look? Let us have your comments.
https://www.youtube.com/watch?v=Od3UWz9gdk8://