Huawei Nexus 6P leaked slides show specs and more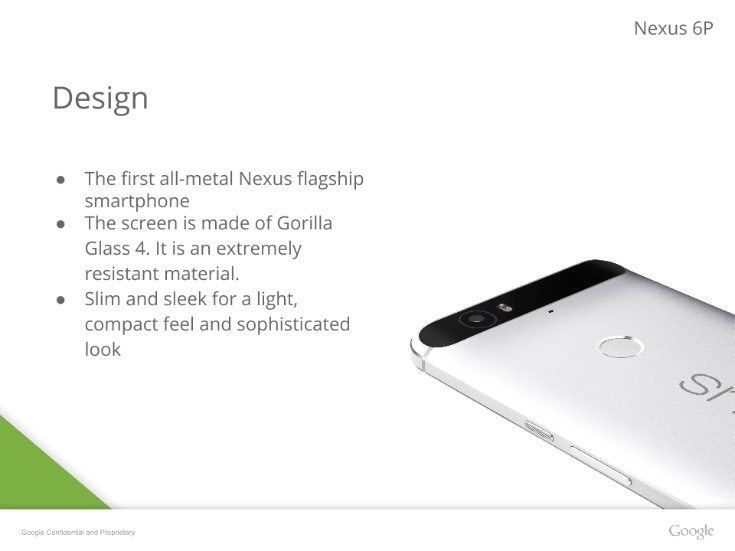 Excitement is really mounting now for Google's September 29th event in just two more days. The wraps should be formally taken off two new Nexus smartphones, the LG Nexus 5X and the larger Huawei Nexus 6P. Leaks are arriving on what appears to be a daily basis, and now some Huawei Nexus 6P leaked presentation slides show specs and a whole lot more.
Some of what has been revealed from the newly leaked slides won't be a surprise to those who have been following the rumors about the new Huawei Nexus 6P so far. However, there are some rather nice snippets to be gleaned. We've seen a multitude of unofficial specs leaks for the phablet, and recently we also showed images showing the phone and its packaging. It's always good to see further evidence though, and the slides are said to be from an internal presentation for training purposes.
The slides display a gamut of information about aspects such as the fingerprint sensor on the reverse and about the camera for example. They also show that it will be running Android 6.0 Marshmallow just as we would expect, with features such as Doze for conserving battery when the phone is not being used. Furthermore they show various design elements of the phone and color options of Aluminium, Frost, Gold, and Graphite. The gold colored Huawei Nexus 6P is said to be an exclusive for Japan, at least initially.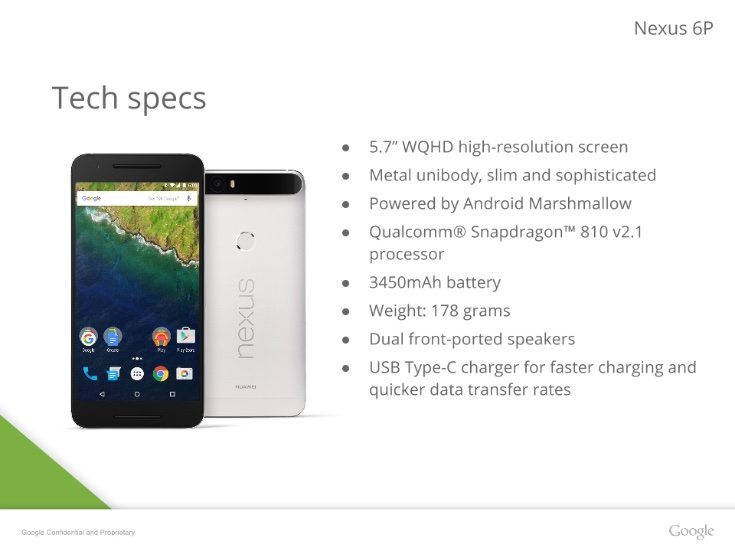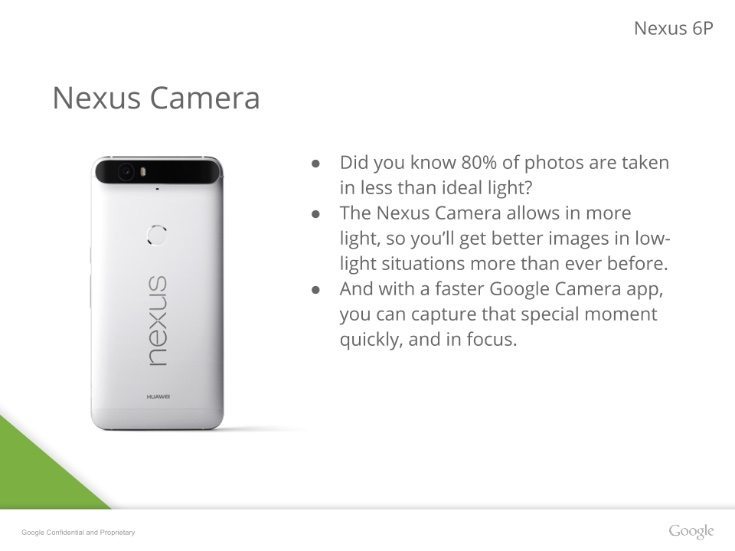 One of the slides also lists the specifications of the device such as a Snapdragon 810 v 2.1 processor, 5.7-inch display with Quad HD resolution of 2560 x 1440 (featuring Gorilla Glass 4), and internal storage options of 32GB, 64GB, and 128GB. It has a 3450 mAh battery, front stereo speakers, USB Type-C connector, and weighs 178g. One of the slides also claims that the Huawei Nexus 6P will have faster charging and transfer rates so Qualcomm Quick Charge looks to be a possibility.
We've included just some of the images of the slides and you can see many more at the source link below. We're itching for Tuesday to come round for the official unveiling of the Huawei Nexus 6P and also the LG Nexus 5X and we'll be back with all the gen. Do you approve of what you see from these leaked presentation slides? Maybe you've already decided you will be purchasing one of the new Nexus phones as soon as they release?
Source: Imgur
Via: Android Police