BlackBerry Priv availability pushed back by heavy demand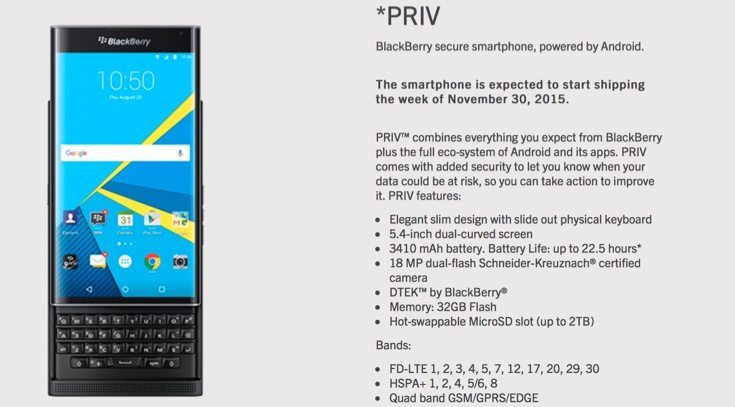 It looks like we were not the only ones to get enthusiastic about the new BlackBerry Priv smartphone. Since we first heard about BlackBerry's first Android handset we've been intrigued by the idea behind it and whether it would be the 'big' one that the company needs. It seems to have hit the sweet spot with buyers too, as BlackBerry Priv availability has now been pushed back due to heavy demand.
In late October we gave details of the BlackBerry Priv price for the US, Canada, and UK, and how to pre-order. At that time the shipping date shown on the official online BlackBerry store was November 6 for the US and Canada and November 9 for the UK. Although those early orders have already started shipping, if you want to get the unlocked model through BlackBerry now you'll have to wait quite a bit longer.
Just yesterday it was reported that the BlackBerry Priv shipping date was now listed as November 30. After just one more day we've just checked the US, Canada, and UK BlackBerry online stores again, and for all three the shipping date is now November 30 and the device still has a pre-order status. BlackBerry says that the shipments are being phased, so if you wait much longer to order that date could have slipped back again.
If you want one sooner then it's still worth trying alternative retailers or carriers who may have different stock availability, but certainly from BlackBerry itself there's a long wait. It's also worth noting that the Priv available from BlackBerry US is not compatible with Verizon, Sprint or US Cellular. However, Verizon has recently confirmed that it will be offering the phone at some point.
What would be really interesting is to know the actual sales figures so far. Then we would know if the demand has been much higher than expected, or if only a limited number were available. Some cynics have even implied that confining the numbers being shipped so far could be a marketing strategy to create the impression of high demand, but of course we couldn't possibly suggest that!
If you're not yet sure whether to purchase this new BlackBerry phone with its slidout keyboard and security features, you might like to check out our recent review choice that could help you decide. Are you eager to get the BlackBerry Priv? Why not let us know if you manage to get one from an alternative source, as this would be a good way of sharing information with other people trying to get hold of the phone.
Source: BlackBerry (US, Canada, UK)