BlackBerry Priv Verizon release soon is confirmed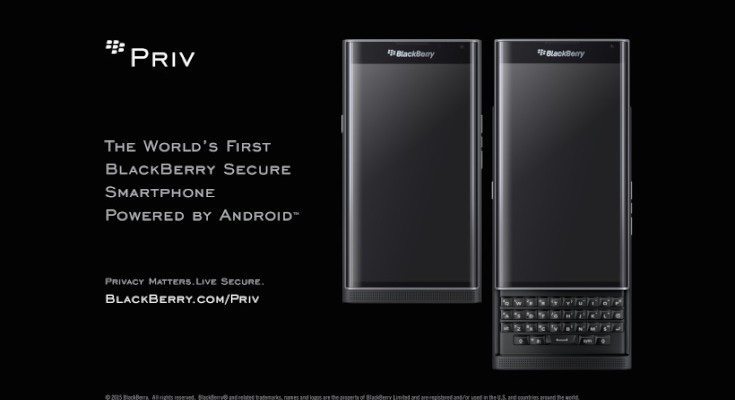 Although we'll confess that BlackBerry smartphones haven't been on our most-wanted list for some time, we have to say we're pretty excited to see more of the BlackBerry Priv. We know that US carrier AT&T is to offer the phone and there have been rumors about it coming to Verizon. Now we can tell you that a BlackBerry Priv Verizon release is confirmed and it's coming soon.
We've already given details of pre-orders for the BlackBerry Priv for the US, Canada and UK, followed by information on pricing directly from AT&T. The handset showing on the BlackBerry US online store says that it is not compatible with Verizon, Sprint, or US Cellular, although it was previously rumored to be coming to Big Red.
Many readers have therefore been wondering about whether the BlackBerry Priv will be up for grabs on Verizon, and recently a leaked image purporting to be a BlackBerry Priv Verizon variant turned up to give this idea further credence. However, such images can be faked and until now there was nothing official about a Verizon offering. That has all changed though, as an official Verizon News Twitter account has confirmed that the BlackBerry Priv Verizon variant is on the way.
PRIVâ"¢ by BlackBerry. The first-ever BlackBerry powered by Android. Coming soon. https://t.co/xsZRn0ukN0 pic.twitter.com/QkZts5de11

— Verizon News (@VerizonNews) November 6, 2015
The tweet simply states "PRIV by BlackBerry. The first-ever BlackBerry powered by Android. Coming soon." While we would have liked Big Red to provide a specific date and a price, at least we know that it's definitely on its way. If you head to the Verizon source below you can now sign up for availability updates.
If you want to find out more about the BlackBerry Priv you can take a look at our specs breakdown of it against the Sony Xperia Z5 Premium. Alternatively you might like to check out a previous article where we shared a video showing features of the phone. All-in-all it's looking like a device we want to spend a bit of time with, and we wonder what you think? Have you been hoping to hear that a BlackBerry Priv Verizon variant is confirmed.
Sources: Verizon and @VerizonNews (Twitter)