Nexus 5X vs OnePlus X, performance vs price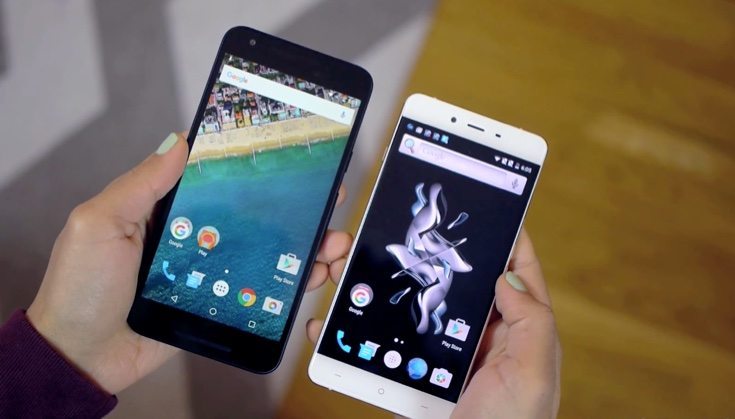 Two recent arrivals to the smartphone scene are the LG-made Google Nexus 5X and the OnePlus X. These handsets are likely to appeal to the same sector of the market, and as such some people will be debating between them. That's why we have a Nexus 5X vs OnePlus X comparison for you today, with a specs and price rundown and more.
We'll start by breaking down the key specifications of these two devices before we get to a video comparison that will show you more about the user experience and features. Pricing of these two smartphones varies according to market, but the OnePlus X is notably the more affordable of the two.
Processors
The Nexus 5X packs a Snapdragon 808 hexa-core processor (two cores at 1.82GHz and four at 1.44GHz), and Adreno 418 graphics. The OnePlus X is equipped with a 2.3GHz Snapdragon 801 quad-core processor and Adreno 330 graphics.
Display
The Nexus phone has a 5.2-inch IPS LCD display with Full HD resolution of 1920 x 1080 and 423 ppi. The OnePlus X has a 5-inch AMOLED display, also with Full HD resolution resulting in 441 ppi.
RAM and Storage
The Nexus 5X has 2GB of RAM and comes in 16GB and 32GB internal storage options (non-expandable). The OnePlus X has 3GB of RAM and 16GB of internal storage, this time expandable to 128GB (via the second SIM slot).
Camera set-up
The Nexus 5X has a 12.3-megapixel rear camera with laser autofocus, dual-LED flash, and 4k video capture. It also has a 5-megapixel front-facing shooter. The latest phone from OnePlus has a 13-megapixel rear camera with phase detection autofocus, LED flash, and 1080p video capture, as well as an 8-megapixel front-facing snapper.
Battery
The new Nexus phone has a 2700 mAh battery while the OnePlus X has a 2525 mAh battery. Both are non-removable.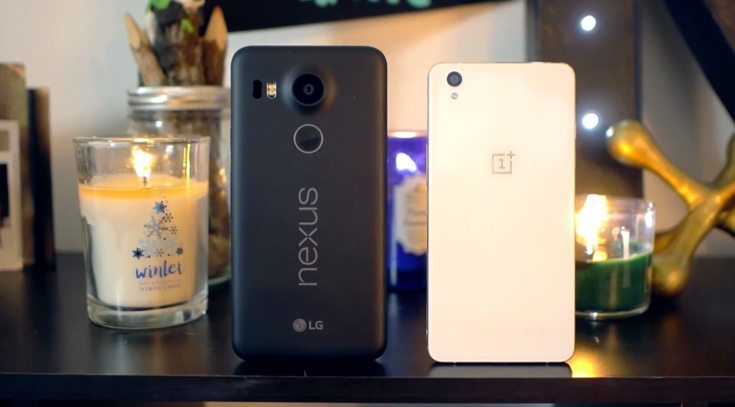 Connectivity
Both phones support 4G LTE. The Nexus 5X supports WiFi 802.11 a/b/g/n/ac, Bluetooth 4.2, GPS, and Type-C port. The OnePlus X supports WiFi 802.11 b/g/n, Bluetooth 4.0, GPS, and microUSB 2.0.
Operating System
The 5X released running pure vanilla Android 6.0 Marshmallow, and as a Nexus phone will be among the first to receive future Android updates. On the other hand the OnePlus X offers an alternative as it runs the Android 5.1 Lollipop-based Oxygen OS UI. An upgrade to Android 6.0 Marshmallow for the OnePlus phone is currently being worked on.
Dimensions and Weight
The Nexus 5X measures 147mm x 72.6mm x 7.9mm and weighs 136g. The OnePlus X measures 140mm x 69mm x 6.9mm and weighs 138G for the standard Onyx version or 160g for the limited Ceramic variant.
Price
As we mentioned at the top, prices will differ according to which region you are in, but we'll give US pricing as an example. The Nexus 5X was launched at $379 for the 16GB model or $429 for the 32GB option. The OnePlus X launched at $249 for the regular Onyx version but the Ceramic edition will not be sold in the US. However, you can see further price details for both versions and regions in our launch post on the phone.
Considering the specs is obviously a starting point, and the above should help you get an idea of which of these phones might be best for your needs. Nevertheless it's also a good idea to take a look at a video comparison for more about features and further insight. For this purpose we've embedded a YouTube Nexus 5X vs OnePlus X video from Android Authority below this article.
The comparison begins by considering the design and build of the phones, and this will give you an opportunity to see the handsets from all angles. The video goes on to cover the displays, battery life, software experience, performance, gaming, camera capabilities and more. There's also a final verdict that weighs up performance vs price, and should help you to make a decision between them.
When you've considered the above as well as the comprehensive video comparison we'd like to hear your choice from the Nexus 5X vs OnePlus X. Will you pay more for the better overall performance of the Nexus phone, or opt for the value for money OnePlus handset?
https://www.youtube.com/watch?v=WJRvtX6lBes://