iPhone SE name appears confirmed by packaging leak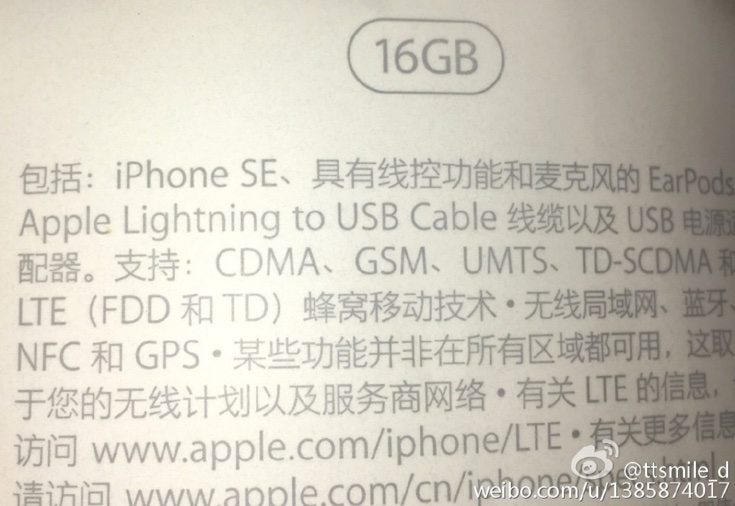 Since the first rumors of a new smaller 4-inch iPhone it has been variously referred to as the iPhone 7C, iPhone 6C, iPhone 5SE and more recently the iPhone SE. Now the latter looks as though it's going to stick, as the iPhone SE name appears to have been confirmed by a packaging leak.
There has been plenty of interest in the idea of a return to a smaller iPhone from those who still enjoy the iOS experience but don't want the newer larger sizes. We've seen names come and go, but if this latest leak is accurate it appears the iPhone SE is the finalized name. The leaked image shown here has appeared on Weibo and is claimed to be of part of a specs listing on the packaging.
The obvious thing noted is that iPhone SE title. As well as this the packaging also verifies that there will be a model with 16GB of internal storage. Of course that doesn't means that only a 16GB version will be available, and rumors have suggested there will also be a 64GB option. Another thing apparent from this leak is the existence of NFC support so the phone will feature Apple Pay.
While we cannot authenticate the image, the official Apple event where we expect to see the iPhone SE unveiling is taking place on March 21. Therefore it's certainly plausible that this could be from the upcoming 4-inch iPhone. It's thought that it will take the place of the iPhone 5S in the current lineup, and that it will be available in Gold, Rose Gold, Space Grey, and Silver color choices.
Although there has been chatter about this upcoming smaller iPhone for many months, there has actually been very little leaked about specs. As far as the design is concerned it's rumored to be very similar to the 2013 iPhone 5s that also had a 4-inch display. We'll be bringing you news from Monday's event where we also anticipate the unveiling of a new iPad Pro in a 9.7-inch size.
Have you been following developments for the upcoming 4-inch iPhone? Maybe you're a potential buyer of the iPhone SE?