LG G5 vs Huawei Mate 8 speed performance comparison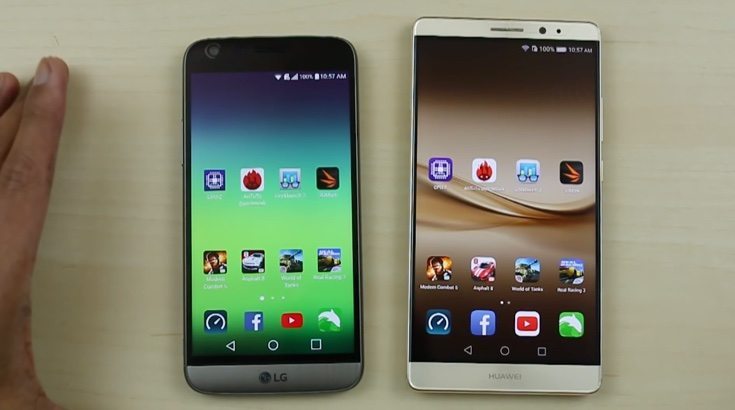 Huawei introduced its flagship Mate 8 phablet late last year for China and started rolling out a global release early this year. Meanwhile LG recently launched the high-end G5, another top-flight Android smartphone. If you're considering buying either of these devices you might be interested in an LG G5 vs Huawei Mate 8 speed performance comparison.
We'll outline the key specs of each before we get to the speed testing. The LG G5 is powered by a Snapdragon 820 quad-core processor with Adreno 530 graphics, and it has 4GB of RAM. It runs the Android 6.0.1 Marshmallow OS with LG's UX 5.0 UI. You can check out more specs details in our launch article on the phone.
The Huawei Mate 8 packs a HiSilicon Kirin 950 octa-core processor with Mali-T880 MP4 graphics. It has 3GB and 4GB RAM variants, and runs Android 6.0 Marshmallow with Emotion UI 4.0. Similarly do check out our launch post on the phone for more details. With top-flight specifications both of these handsets should offer excellent performance, and they have been put through their paces in various rounds of speed testing.
Below this article we've embedded a video of LG G5 vs Huawei Mate 8 performance testing as far as speeds are concerned. Please note that the 4GB of RAM version of the Mate 8 is being used in this testing. The video shows both phones alongside each other so that you can compare the speeds. A variety of different aspects are checked out including how quickly they perform in opening apps, Internet browsing, and multitasking. There are also some benchmark tests conducted and a bootup test to see which is up and running first.
The reviewer also checks the temperatures of the two phones before and after some testing for thermo throttling. You'll see a counter alongside each phone that racks up the wins after each test. We're not going to spoil your enjoyment of the video below by telling you the winner before you view it. There is a clear victor though, although we will say that on many occasions the times are very close. If you enjoyed this you might also want to check out similar speed testing involving the LG G5 vs Samsung Galaxy S7 Edge.
When you've taken a look at the video we'd be interested in hearing your thoughts on the LG G5 vs Huawei Mate 8 speed comparison. Did you forecast the correct winner? Maybe the outcome surprised you?
Source: L BS (YouTube)
https://www.youtube.com/watch?v=f6BmrCgtri8://