Leaked Galaxy Note 9 poster seemingly shows off blue phone alongside yellow S Pen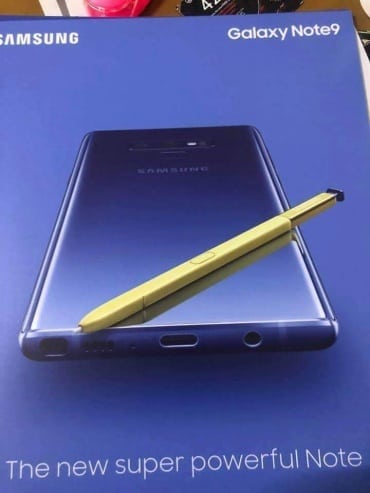 Largely familiar yet different in a number of essential areas, the "new super powerful Note" is making its official global debut on August 9, reportedly followed by a commercial rollout starting as early as the 24th of next month.
That tagline, by the way, is taken straight from a purported advertising poster of the upcoming Galaxy Note 9 (or, technically, Galaxy Note9), with the freshly leaked material revealing an eye-catching (and somewhat unusual) blue phone/yellow S Pen combo.
The contrast between the two colors is certainly interesting, even though we obviously can't be sure of this illustration's authenticity. For what it's worth, Samsung wasn't exactly subtle in teasing a sleek yellow Galaxy Note 9 stylus in the handset's first official pre-release video ad.
Everything else the new image shows off also appears to check out, from the Note 9's USB Type-C port to a 3.5mm headphone jack (yay), and of course, that much-discussed relocated fingerprint sensor below two horizontally arranged rear-facing cameras.
Bottom line, we have every reason to trust this is the genuine design of Samsung's "next big thing", and along with that front panel render, it makes us even more excited… for 2019's Galaxy S10 trio.