Motorola Droid Bionic ICS update rolls out & Jelly Bean news
There's big news for Motorola Droid Bionic users today as Verizon and Motorola have finally started to push out the Android 4.0 Ice Cream Sandwich update that many users have been waiting for. Verizon has officially stated that the ICS rollout would be pushed out in stages from yesterday, October 19. As well as that we have even better news as Motorola has now confirmed that the Droid Bionic will receive the later update to 4.1 Jelly Bean at some stage, though considering how long it took to get the upgrade to ICS we wouldn't hold your breath.
The Droid Bionic ICS update saga has been a long, long time in the making and recently we detailed the huge amount of frustration this was causing owners of the device, to which we had an enormous response from readers who sent us their comments. We finally heard of soak tests taking place and then a few days ago told how Verizon had at last approved the ICS update. We told how the official support documents had now been uploaded and this suggested the ICS update release could be only days away.
We're pleased to say that this has now happened and that some Droid Bionic users have started to receive the upgrade according to The Droid Guy. It's a mammoth 368MB upgrade and ICS will offer Droid Bionic users plenty of benefits such as enhanced multitasking, face unlock, swipe-able notifications, improved battery performance and more. This is an OTA update but because of the size those wishing to download should make sure they have a good Wi-Fi connection before beginning the process. The size of the download also means it could take some time, between 10 and 15 minutes and then a further 5 to 10 minutes for the installation.
Remember the over-the-air ICS update is being pushed out in stages so you may receive notification. If you do so simply press 'Download' to proceed and following the download then hit 'Install Now.' At this point the phone will power off and then come back on and you should see a progress bar and installation icon. When the process is complete the phone will power off again before coming back on to finish the installation. Then it's simply a question of tapping 'OK' when you see a confirmation that the install was successful on your home screen.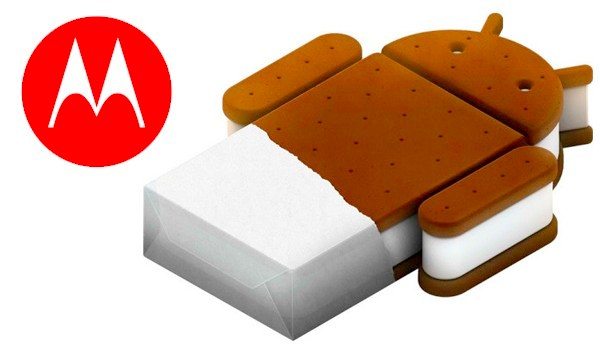 If you don't receive notification and want to check manually for the update you can search for it from the home screen by hitting the Menu Key > then Settings > About Phone > System Updates > and finally Download. Once the download has taken place hit 'Install now.' When this has taken place the phone will power off before coming back on again to complete the installation. At this point all you need to do is press 'OK' when you see confirmation that the install was successful on your home screen. You can check out more about this Verizon software update page for the Droid Bionic here where you'll see PDF links for update instructions and also the benefits of the update.
Now we finally know that the ICS update is arriving though, maybe it's time to turn our attention to 4.1 Jelly Bean. Back in September we gave news on various manufacturers devices and which would be receiving the Jelly Bean update. At that time Motorola had only confirmed Jelly Bean for the Droid RAZR HD, the Droid RAZR MAXX HD and the Droid RAZR M but there was no official news for the Motorola Droid Bionic. However Phone Dog reports that Motorola has now issued further details on more devices that will receive Jelly Bean and the Droid Bionic has been added to the list.
This will no doubt please many users although we wonder if Motorola has added the Droid Bionic to the list in an attempt to appease the disappointment that many owners felt about the time it took to receive ICS. For instance, we had plenty of comments from readers who said they were so fed up about the situation that they'd never purchase another Motorola device again and when we advised that the rollout was only days away some felt it was all too late. Motorola has given no news on when the Jelly Bean update will come to the Droid Bionic so we shouldn't be jumping up and down just yet. Nevertheless at least we now know that the phone will receive the upgrade at some point.
We're really interested to hear from readers about the ICS update coming to the Droid Bionic at last. Are you just pleased that your device will finally receive this upgrade? Maybe you're still annoyed about the length of time it took? Perhaps you're one of the lucky ones that have already received the update? Finally we'd like to know how you feel about the news that Jelly Bean will also come to the Droid Bionic at some point? Let us know with your comments.