32GB Nexus 7 3G listed, price & release may trouble iPad mini
One of the worst kept secrets in the mobile tech world recently has been the existence of a 32GB version of the Google Nexus 7 tablet PC. We have heard of numerous leaks and even a couple of units being out in the wild, and now in another development the 32GB Nexus 7 3G has been listed on a website, but the price and release may trouble the iPad mini.
While there have been a number of leaks concerning the Nexus 7 coming in a 32GB version, there hasn't been that much about it also coming in a 3G flavour as well. Now though according to the guys over at Talk Android the device has appeared on a Latvian store that is called 1a.
There is also some information in the listing that can be seen below that reveals the pricing and the possible release date for the device. The Nexus 7 32GB 3G model is priced at 219 Lat, which converts to around £249/$400, and the device has a shipping date of November 12th.
Now it has to be remembered that retailers can quite often put a product listing up with pricing and ship dates that turn out to be incorrect, and simply some guess work from the retailer in question. This comes after the Office Depot has also listed the 32GB version of the device on its website priced at $249.99.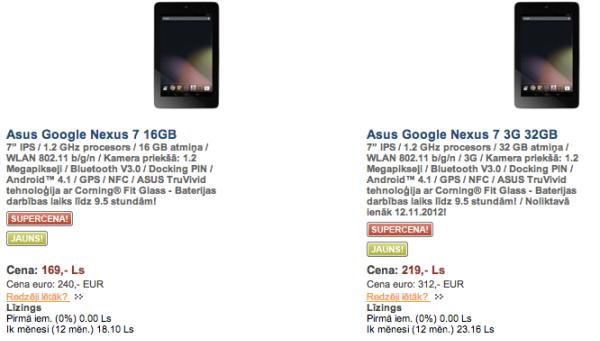 As WebProNews are reporting the retailers listing doesn't feature an image of the device, and bizarrely it is saying that customers can only get one via an in-store pickup available now. This comes as Office Depot is still listing the 16GB model for exactly the same price, and this is not the first time the price has slipped out for the US market.
It seems that the 8GB version of the Nexus 7 is being phased out in readiness for the new storage model, and we have already seen price cuts from some retailers on the 16GB model. If the pricing of the 32GB 3G version of the Nexus 7 is correct it may tempt consumers away from the recently announced iPad mini.
In the UK the 32GB 3G iPad mini costs £449 while in the US it costs $559, which is a lot more than the 3G Nexus 7 may cost with 3G connectivity. This pricing of the 3G Nexus 7 is for Europe as well which are normally higher due to various local taxes and customs, so the US price may convert to something even cheaper.
Hopefully come Monday's Google event in New York all will be revealed by the company and we will know for sure how much the new Nexus 7 models will be costing along with their availability.