6.1 Huawei Ascend Mate vs 5.5 Samsung Galaxy Note 2
Back in 2011 Samsung created the phablet market we now have with the release of the original Galaxy Note smartphone that featured a 5.3-inch display. At the time there where many that wondered why anyone would need a handset with such a large display, but obviously many consumers love the device. Fast forward to last year and Samsung released the 5.5-inch Galaxy Note 2, which we are now comparing against the 6.1-inch Huawei Ascend Mate.
With the release of the Galaxy Note 2 Samsung were clever as while they increased the screen size of the device, they achieved this by making the new model narrower meaning it's easier to hold in the hand compared to its predecessor. The Huawei Ascend Mate first came to our attention way back in October before being confirmed by a company spokesperson in December, and was even seen in a video before its official announcement a few days ago.
So how does it compare to the market leader the Samsung Galaxy Note 2?
Dimensions & Weight
The new kid on the block from Huawei measures in at 163mm x 85.7 x 9.9mm and weighs 198 grams, while the Galaxy Note 2 is obviously smaller at 151.1mm x 80.5mm x 9.4mm weighing in at 180 grams.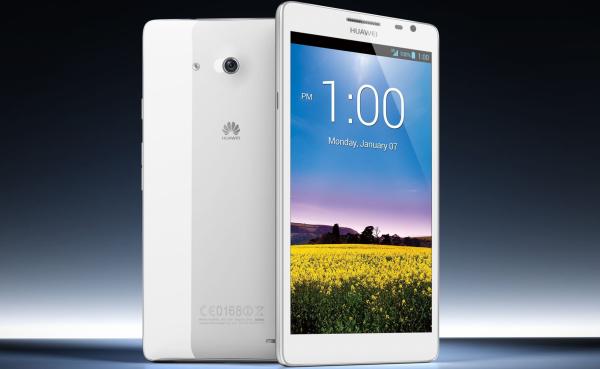 Display
The Samsung Galaxy Note 2 features a 5.5-inch Super AMOLED capacitive touchscreen display offering 1280 x 720 resolution and 267ppi pixel density, while the Ascend Mate uses a 6.1-inch Super IPS+ LCD capacitive touchscreen display with a resolution of 1280 x 720 and 241ppi pixel density.
Processor & Power
The new Ascend Mate is powered by a quad core processor clocked at 1.5GHz with 2GB of RAM, while the Note 2 uses the Exynos 4412 quad core processor at 1.6GHz again with 2GB of RAM.
Cameras
Both the handsets feature eight megapixel rear facing shooters while the Ascend Mate only features a 1.0MP front facing camera, and the Note 2 uses a 1.9MP unit.
Storage
The Galaxy Note 2 starts at 16GB going up to 64GB that is expandable further via microSD card, while the Mate has 16GB of on board storage that is also expandable.
Battery
The Galaxy Note 2 has come in for a lot of praise from owners regarding its battery life from the 3,100 mAh unit, but the Ascend Mate is powered by an even bigger 4,050 mAh battery.
It is not known if the Huawei Ascend Mate will make it out of Asia but there will be many that would prefer to go with the Note 2 as they may find a smartphone packing a 6.1-inch screen just too big. Do you think the Galaxy Note 2 is as big as a smartphone should be?