Alcatel One Touch Scribe HD vs Samsung Galaxy S4
Occasionally we like to give readers a comparison between two phones of the moment or ones that will release in the following months, so today we will look at the Alcatel One Touch Scribe HD vs. Samsung Galaxy S4 (S IV) to give readers an idea of which smartphone of these two would suit them best. Both of these are set to be notable Android handsets and of course we already know that the Galaxy S4 will be a massive hit because of the success of the previous Galaxy S phones. It will be interesting to see then if Alcatel can come up with something that can really challenge the Galaxy S4.
It looks as though the Galaxy S4 will beat the One Touch Scribe HD to release although this is not set in stone. The One Touch Scribe HD has a likely release timeframe of Q3. We've heard various rumors about a release date for the Galaxy S4 but the consensus of opinion seems to feel that it will arrive in early spring although of course this is not confirmed yet. It's also important for us to explain that the Alcatel One Touch Scribe HD has had its specs already announced so what we tell you about this is official news. However there is no official news yet on the Galaxy S4. We have reported on many leaks though so will do our best to round up what we expect to see, to at least give readers some idea of what to anticipate for the next in this popular flagship series.
We'll start then with the just-announced One Touch Scribe HD and this one has plenty of promise along with an optional capacitative stylus. It has a 1.2GHz MediaTex MT6589 quad-core processor, 5-inch IPS TFT display with resolution of 1280 x 720 and 294 ppi, 1GB of RAM but surprisingly only 4GB of internal storage although this is expandable via microSD card to 32GB. There's also an 8-megapixel rear camera with autofocus, LED flash and video capture plus a secondary camera capable of 720p video capture.
As well as all this it has Wi-Fi 802.11 b/g/n, Bluetooth 4.0 and a 2500 mAh battery and it runs on Android 4.1 Jelly Bean. It will come in four color options, Black, Pure White, Flash Yellow and Flash Red and it's decently designed with a curved back. An LTE version of the phone will also be available and this will be in Reddish Black.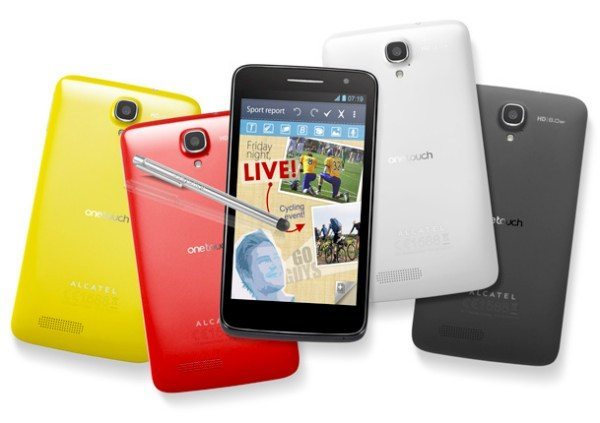 On to the Samsung Galaxy S4 and we'll remind you that the specs and features we're mentioning here are either leaked and so unconfirmed, or have been widely rumored by various sources. It looks as though it could have an Exynos quad-core processor (possibly the new Exynos 5 Octa processor that was just announced), 5-inch 1080p AMOLED display, and 2 or even 3GB of RAM. While we've not heard much about internal storage, as the Galaxy S3 has 16, 32 or 64GB options that are expandable via microSD we'd expect at least the same for its successor. Other things tipped are a 13-megapixel camera with stereo sound and 1080p video capture. To add a bit more to the mix we recently heard rumors that the Galaxy S4 will come with a stylus in the way of the larger Galaxy Note, will use Google Chrome as its default browser, have enhanced S Voice and a 9.2mm thick design and although these are mere murmurings anything is possible.
One thing that does seem likely is that the Galaxy S4 will launch with the most up-to-date Android operating system at the time of its release and this could well be Android 5.0 Key Lime Pie, which will be a big draw. However we should point out that Samsung has announced it could bring out smartphones using the Tizen operating system this year and there has been some initial concern that the Galaxy S4 could switch to Tizen. We can't rule that out but at this stage feel it's unlikely so are reserving judgement on that point.
There is no pricing available for either phone as you might expect at this early stage but we'd like to gauge our readers' opinions about these two smartphones. Going on the above specs and features which of these two handsets most appeals to you so far? Maybe you're a Galaxy S enthusiast and nothing will tempt you away to an Alcatel offering? Perhaps you're open to a phone that's less mainstream than your existing handset? Let us know with your comments.