Samsung Galaxy Youm phone with flexible display envisioned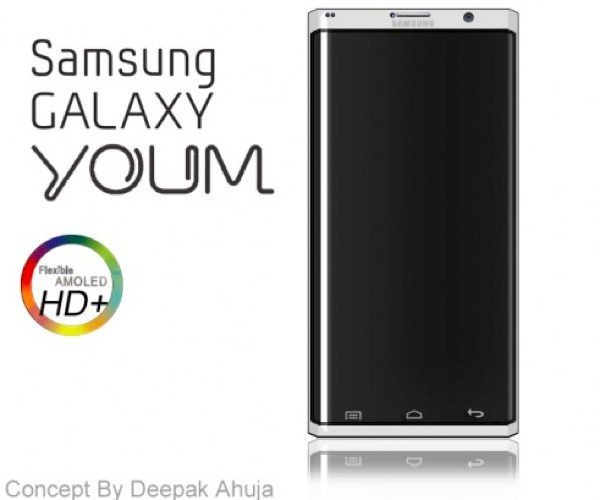 For some time now we've been discussing the development of flexible displays coming to future smartphones and Samsung was one of the first major manufacturers to begin this innovation. The giant tech manufacturer could also be the first to get a new handset to the market with a flexible display. While we wait to find out we have a Samsung Galaxy Youm phone with flexible display envisioning to show you.
There have been rumblings about a Samsung device with one of its Youm flexible displays for some time now but it failed to materialize on the Galaxy S4. It also seems there's only a slim possibility now that such displays could be ready in time for the Galaxy Note 3 and we recently discussed the possibility of the LG Nexus 5 beating the Galaxy Note 3 to the mark to be the first smartphone with a flexible display.
Now a designer has come up with a concept idea of a Samsung Youm flexible display smartphone to give us an idea of what such a device could be like. Samsung showed off its Youm flexible OLED display ideas at CES 2013 and this is the basis of this render by Deepak Ahuja. Apart from added durability we still wonder whether the idea of devices with flexible displays is actually that useful or whether it's more of a novelty. However we're pretty impressed with the styling of this Youm smartphone concept.
Ahuja has also come up with imagined specs for such a device including a 1.9GHz quad-core processor, 5.3-inch flexible AMOLED full HD display, 1GB of RAM and 16 or 32GB of internal storage. Other specs include a 13-megapixel rear camera, 2-megapixel front-facing camera and 2850 mAh battery while the device runs Android 4.2.2 Jelly Bean skinned with Samsung's TouchWiz Nature UX.
You may also be interested in a recent concept on a Samsung tablet with a flexible display. We'd really like to hear your thoughts on flexible displays for smartphones. Is this something you are really waiting for and are hoping these devices come soon? Maybe a flexible display is something that just doesn't interest you and there are other features you'd rather see on future smartphones? What are your thoughts on this Samsung Galaxy Youm concept?
Source: Concept Phones