Nokia Lumia 928 and virtues of low-light photography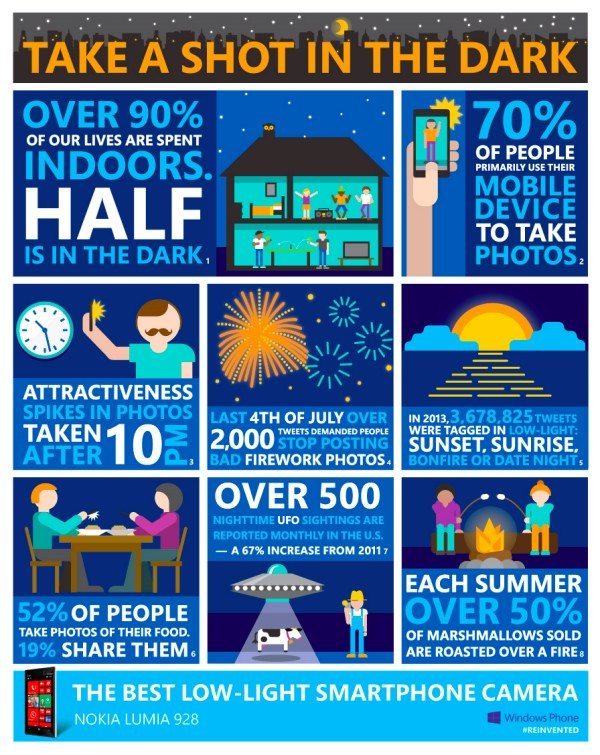 There should be plenty of buyers for the Nokia Lumia 928 smartphone on Verizon, a Windows Phone handset with a particularly good camera set-up. We've previously noted its excellent capabilities when it comes to low-light photography, and now Microsoft has come up with an infographic that shows how much of our lives are spent in the dark and extolling the virtues of the Lumia 928.
The Lumia 928 has a lot to recommend it, and you can see our review roundup here with a comparison of the phone vs. the Samsung Galaxy S4 here. We also previously mentioned a Nokia ad that specifically concentrated on the low-light performance of the Lumia 928 so this is something that Nokia is pretty proud of. The Lumia 928's low-light performance is largely down to the fact that it has a smaller f-stop number, and this allows more light through as it has a larger aperture.
The Lumia 928 also features OIS (optical image stabilization), and you can see a video showing the advantages of this here. This new infographic from Microsoft shows that around half of our time is lived in the dark, and as the majority of people now use their smartphones for photography then low-light performance is something that is very desirable.
Also shown is the fact that around 90% of our time is spent indoors, and half of our lives we're in the dark. It then goes to detail some very specific information such as the fact that this year there have been 3,678,825 tweets that were tagged in low-light. Also last year on the 4th of July there were more than 2,000 tweets demanding that people stop posting bad firework photos. There are more really obscure details including that there are over 500 nighttime UFO sightings in the US every month.
You can see the full infographic below, and the recommendation from Microsoft at the bottom of the image for the Nokia Lumia 928. It's interesting enough that we thought readers would like to see it, and we'd like to hear your comments on the infographic and of course the Lumia 928. Will you be purchasing the Lumia 928 on Verizon? If so, is part of your decision to opt for this phone due to its low-light photography capabilities?
Source: WindowsPhone