iPhone 6 perfect design and display size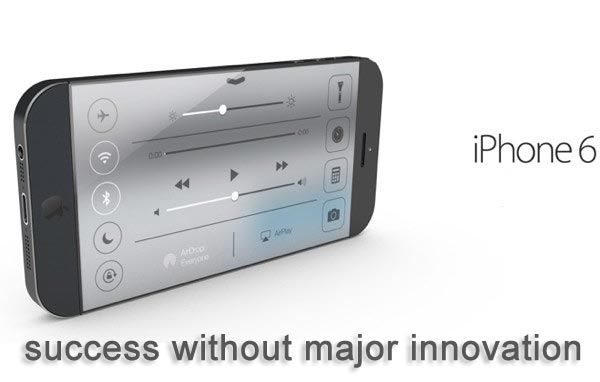 When it comes to innovation from the Apple camp it seems iPhone users are not too bothered about radical changes and a huge bump in screen sizes. However, this does not mean iPhone users do not want a slight design change and judging on many comments we have received over the last few weeks a slightly bigger iPhone 6 display is ok but no too big.
When it comes to larger smartphone screen sizes Android users favour this more than iPhone users, and over this assumption we want to delve in a little deeper about this.
iPhone 6 Design Change
Last week we hit on the topic of the iPhone 6 release idealized for user display, and one section mentioned via feedback from our other articles about Apple not needing to go on the path of radical changes, curved displays are not really needed so what sort of radical design is needed to make the iPhone 6 different to the iPhone 5?
Apple has a loyal following and on past experiences users will flock to buy the next instalment, but this does not count out a few that do want to see something different. The new Mac Pro had a major design overhaul and this was welcomed with open arms and cheers and WWDC.
So what is the perfect iPhone 6 display size?
There have been talks of Apple exploring new screen sizes of up to 5.7-inches, on a personal note I use many smartphones and Apple being one I use on a daily basis, and 5.7-inches is just way to big. There have also been reports on a 4.7-inch iPhone 6; personally more than 4.5-inches would be madness, but hey who are we to judge,it is down to the individual.
Yes there are many Android smartphones on the market as well as new ones coming with large displays, but Apple really do not need to take this path to have a successful iPhone 6 release. If the iPhone 6 were to release with a 5.7-inch display there would be no point to the iPad mini because the iPhone could do it all and then some, or are we wrong in saying that? Always open for comments.
Feedback from Phones Review comments
We have had such a good mixture of comments when it comes to the iPhone 6, and some have said the closet competitor to Apple is the Samsung Galaxy S4 and even though this comes with a 5-inch display the iPhone 6 does not need to go beyond 4.5-inches.
Another reader said that the perfect iPhone 6 would have to include a 4.5-inch screen with the same design as the iPhone 5, featuring minor hardware update on CPU, RAM and camera with pre-installed iOS 7. We here at Phones Review believe by the time the iPhone 6 releases it will come pre-installed with iOS 8 not iOS 7.
There was one comment we received that stuck out the most, it was suggested the perfect iPhone 6 would be one with a 4.3-inch edge-to-edge Retina 2 display and A7 quad-core processor with an aluminum build.
Phones Review Says
We actually liked the feel of the iPhone 4/4S; it felt like a quality phone with its heavy feel. The iPhone 6 really should not go any thinner than the iPhone 5 as this would feel like a child's phone, the iPhone 5 is a stunning smartphone and sales prove this.
You do not need to have a radical iPhone 6 design, you could simply tweak things such as moving the Home Button, with the new iOS 7 on board there is not really any great need for it, it could be touchscreen based, some say the Home Button is needed because it is the iconic look on any iPhone. They could do away with this button and it will give room for speakers on the front, but then we are stepping on the toes of another phone, you know what one we mean.
Bottom Line
Is there a need for an iPhone 6 over 4.5-inches? And is there any real need for a radical design overhaul? Please do comment.