Samsung Galaxy S3 vs. S4 with Android 4.3 update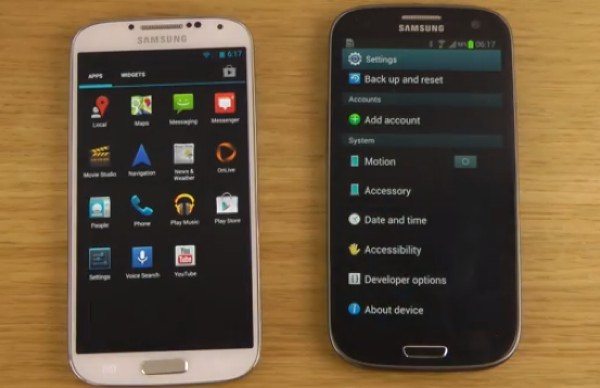 We always try to keep readers informed about software updates for their various devices, and at the moment there's a huge amount of interest in Android 4.3 Jelly Bean. Following a leaked build of Android 4.3 a few days ago we've had a few opportunities to see 4.3 in action. Now we want to show you a video that shows the Samsung Galaxy S3 vs. S4 with the 4.3 update.
Android 4.3 Jelly Bean has leaked for the Galaxy S4 Google Edition and also been successfully ported for the Galaxy S4 I9505 model. We've already seen Android 4.3 on the Galaxy S4 shown against iOS 7 beta 2 for the iPhone 5 but today it's the turn to look at the Galaxy S4 with 4.3 against its older counterpart, the Galaxy S3 on Android 4.1.2.
The 11-minute YouTube video demonstrates this using a 4G LTE variant of the Galaxy S3. It shows some of the differences between the devices, with the Galaxy S4 using stock Android while the Galaxy S3 features Samsung's TouchWiz UI. Although many people favor a stock Android experience, the video reviewer has a lot of positive things to say about TouchWiz.
The video goes on to show that widgets are available on the lock screen with Android 4.2 and 4.3. It gives a good taste of what Android 4.3 looks like and will give users of the Galaxy S3 a taste of things to come, once their devices receive the update. You may also want to check out our post from earlier today about the Galaxy S4 with Android 4.3 vs. the HTC One and Sony Xperia Z, or a 17-minute review of Android 4.3
We're interested to hear your initial thoughts on the Android 4.3 Jelly Bean update, shown here on the Galaxy S4? Will you be waiting eagerly for this to arrive for your Galaxy S3 or other device? Send your comments to let us know.