iPhone 5 vs iPhone 4 iOS 7 beta 2 video review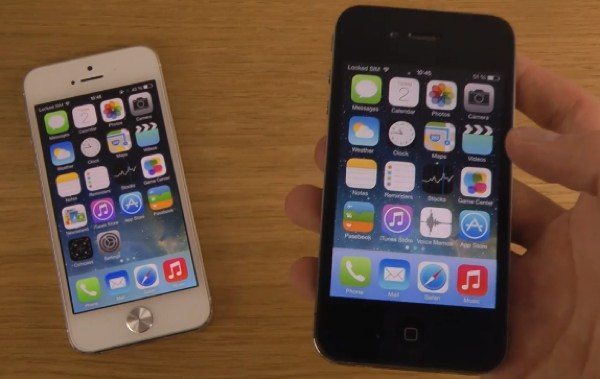 Since Apple iOS 7 was recently introduced we've been giving readers as much information as we can about the upcoming operating system. It's due to publicly release in fall, and the iPhone 5S is likely to launch running it. Many people wanting the next iPhone, and those with some earlier iOS devices, are interested to find out as much as they can about iOS 7, which is now at the beta 2 stage. With that in mind we have an iPhone 5 vs. iPhone 4 iOS 7 beta 2 video review for you today.
We've recently looked at Android 4.3 vs. iOS 7 beta 2 on the Samsung Galaxy S4 and iPhone 5 respectively, and further to this we talked about the Galaxy S3 Mini vs. the iPhone 5 on iOS 7 beta 2. We've also given a full changelog for iOS 7 beta 2. It's always good to see more though, and the 11-minute YouTube video that you can see below this story offers an interesting look at iOS 7 beta 2 on the iPhone 5 and 4.
Although we've seen iOS 7 beta 2 on the iPhone 5 before and also seen it on the Verizon iPhone 4, it's interesting to see these phones with the iOS 7 update compared together. The video begins by pointing out that on the iPhone 4 you don't see the transparency (behind the keyboard for example) that you do see on the iPhone 5. The performance of iOS 7 beta 2 also seems a little choppy on the iPhone 4 and opening apps is deemed slow.
When booting down though, the iPhone 4 is actually quicker than the iPhone 5 although when booting up it's the other way around. The video goes on to look at Settings and wallpapers and then gives a brief look at Siri on the iPhone 5, something that is not available on the iPhone 4. There are also details of other features and apps on both as well as showing how the web browser works slightly quicker with the iPhone 5 than with the iPhone 4.
Of course we should expect the iPhone 4 with iOS 7 beta 2 to be a little slower than the iPhone 5 with the same, as the 4 is starting to show its age a little. However, bearing that in mind it really doesn't do too badly at all. It's also important to point out that as iOS 7 is still in the beta stages there could be variations to the way it looks and feels by the time it finally makes a public release. You may also be interested in our recent post about iOS 7 icon patents.
We hope you found this iOS 7 beta 2 review on the iPhone 5 and iPhone 4 useful. If you have any comments you wish to make about iOS 7 beta 2 then we'd be interested to hear from you, so please do use the box below.