iPhone 5 battery life hit from iOS 7
Apple's iOS 7 was finally released to the public yesterday, and millions of people have already updated to the new operating system. However, if you're about to update your iPhone 5 to iOS 7 you might want to think again. It's being reported that the iPhone 5 battery life is taking a real hit from iOS 7.
When iOS 7 finally went live to end users yesterday we soon became aware of download and installation problems, with many of us seeing the same error messages and being unable to get the update. Because of Apple server problems there have also been issues with iPhone activations.
Plenty of us gave up trying to download iOS 7 to our existing devices when the servers were taking a severe bashing, so if you haven't yet updated your iPhone 5 to iOS 7 that may not be a bad thing considering this latest news.
Although iOS 7 brings major improvements and a completely new look to the operating platform, it appears that the iPhone 5 in particular is really having its battery life detrimentally affected by iOS 7.
When you take a look at the chart below you can see that all of the iOS devices listed appear to have reduced battery life when comparing iOS 6 to iOS 7 under Wi-Fi. However, the iPhone 5 takes the biggest blow of all.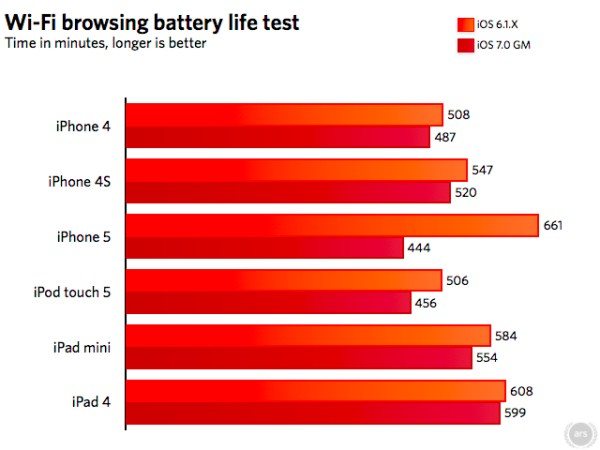 The chart comes from a major review of iOS 7 by Ars Technica. On Wi-Fi the iPhone 5 has around 7.4 hours of battery life on iOS 7, whereas on iOS 6 it managed around 11.01 hours. In the majority of other iOS devices used in the testing the difference in battery life was around half an hour or less, so the iPhone 5 is significantly more detrimentally affected.
While we'd expect that a new operating system might slightly affect battery life, we wouldn't have anticipated such a major difference as this. In fact Ars Technica was so alarmed by the results for the iPhone 5 that it re-flashed its Verizon iPhone 5 and ran the test again on both operating systems, only to see the same results.
When iOS 7 was still in beta there were issues noted with battery life when compared to iOS 6. However, in tests we conducted at that time it was the iPhone 4S that was affected more, and we gave details of how the problem could be fixed. We would have expected that these sorts of battery issues would have been ironed out with the final build of iOS 7 though.
This isn't the first time we've heard of battery life on devices being affected with iOS updates, and it's too early to tell just how widespread the issue might be. It's also the reason that some people choose to hold off with an iOS update, as issues like this often come to light over the first few days of availability.
It will be interesting to see if owners of the iPhone 5 report problems with the battery life of their device when there have been several days to notice any difference from iOS 7. In the meantime we'd like to hear from readers about this.
Have you noticed any severe battery drain on your iPhone 5, or other iOS device following the iOS 7 update? Maybe you've noticed an issue other than the battery life? Let us know with your comments.
UPDATED: We have since heard of a simple battery fix that could help many readers that you can read more about here.