iPhone 5S smashing iPhone 5C sales numbers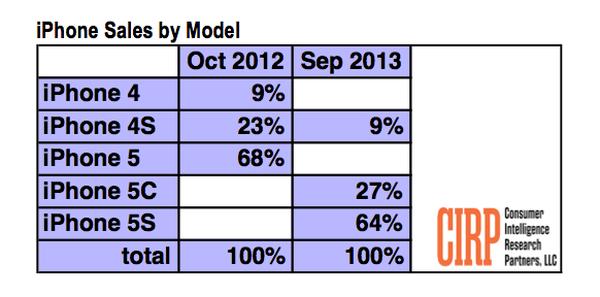 It has been a few weeks now since Apple released its new iPhone models to select markets around the world, and unsurprisingly the iPhone 5S is smashing the iPhone 5C in terms of sales figures.
The latest sales figure estimates for the new iPhone models is putting the iPhone 5S at 64 percent of Apple smartphones that are currently being sold, while the slightly cheaper iPhone 5C is only sitting on 27 percent according to findings by Consumer Intelligence Research Partners.
We talked earlier about whether the iPhone 5S was a sensible purchase or not, and according to AllThingsD the so called less expensive iPhone option isn't currently cannibalizing sales of the flagship handset.
The iPhone 4S is now available free with a new contract and this accounted for 9 percent of iPhone sales, while last year it achieved 23 percent of sales during October. According to CIRP co-founder Josh Lowitz the lower price iPhone 5C will gain market share over a longer period of time as the flagship handset has so far been snapped up by those that like to upgrade to the latest handset.
This news comes after we recently heard of retailers cutting the price of the iPhone 5C as well as Apple reportedly scaling production back of the device by 50 percent. Both models are due to be released in more markets shortly, but comes when stock of the iPhone 5S in the US is patchy to say the least, but there is always the stock checker that can see which Apple Stores have any units in stock.