Galaxy S4, S4 Mini Black Editions share Note 3 feature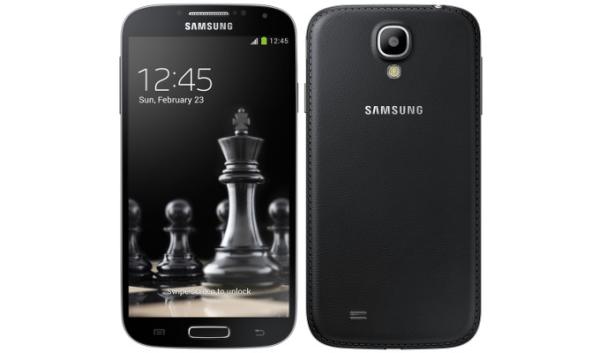 There has been a lot of talk recently about its upcoming replacement but the Samsung Galaxy S4 remains a highly sought after smartphone on the Android platform, and just like many handsets we are seeing more colour options added as the Galaxy S4 and S4 Mini Black Editions are announced that share a Galaxy Note 3 feature.
This not the first time that Samsung has launched new colour options for the Galaxy S4, as we have seen Pink, Gold, and a Blue Arctic options becoming available among others. Now shortly after announcing the Galaxy Note 3 Neo the company has revealed the Black Editions of the Galaxy S4 and S4 Mini in Russia.
As you can see from the image the device shares the same faux leather rear cover that is found on the Samsung Galaxy Note 3, which you either love or hate. The cover is still made from plastic but gives the look of leather with the fake stitching going down the sides.
Other than that the two new models are exactly the same as the standard Samsung Galaxy S4 and S4 Mini, and the two handsets will be released in Russia next month and priced at $660 for the Galaxy S4, while the Galaxy S4 Mini Black Edition will cost $460.
At the time of writing there is no information if the handsets will be made available around the world, but hopefully in time they will although with the release of the Samsung Galaxy S5 getting closer it remains to be seen how many consumers would want to own one, unless they get a nice price cut.
Do you like the Black Editions?