Microsoft Surface Pro 3 demos to check out at Best Buy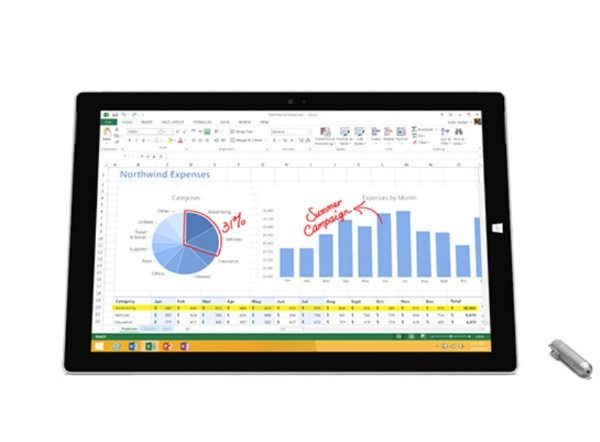 Last month Microsoft officially introduced the Surface Pro 3 tablet with a 12-inch display. This is likely to interest plenty of potential buyers as it has a sleek and slim design with some top-notch specs. Pre-orders are already open but if you'd like to have a better look before you decide whether to buy one there's good news, as Microsoft Surface Pro demos are now available to check out at Best Buy.
The Surface Pro 3 comes in several configurations offering different processors and storage levels. This is not a cheap device though and it's a lot of money to invest, so making demo models accessible in The Windows Store at Best Buy is a good idea. The device is set to release on June 20, and as well as giving the demo models a test run you can also see the new Type Cover accessory.
The Surface Pro 3 also makes use of a Surface Pen and claims to offer around 9 hours of web browsing from fully charged. If you decide to pre-order one after you've taken a look you'll pay $799 for the base model with a Core i3 processor, 4GB of RAM and 64GB of internal storage. Alternatively you can step up to a Core i5 CPU with 8GB of RAM and 128GB of internal storage at $1,299. If you want one with a Core i7 processor there's one with 8GB of RAM and 256GB of internal storage at $1,549 and another with 8GB of RAM and 512GB of internal storage at $1949.
If you want to know more about the Surface Pro 3 you can see two previous videos we've shown here and here, the first comparing it with the Microsoft Surface 2 and the other with the Surface Pro 2. You may also be interested to read about a battery issue that recently came to light for the Pro 3 before it even releases, with an update fix in the offing.
Are you thinking of splashing the cash on a new Microsoft Surface Pro 3 tablet? Do you think you'll be heading down to Best Buy first to get a look at one of the demo models? Let us know with your comments.
Source: Best Buy AND Microsoft News
Via: Phone Arena