New Nexus 6 design for discussion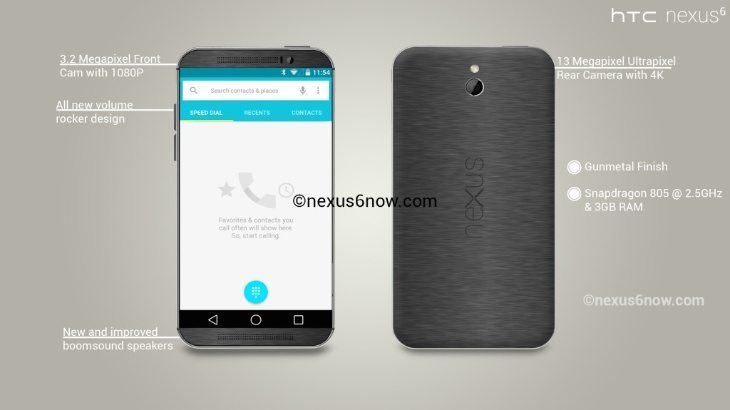 The Google Nexus 6 is a huge subject of interest right now, with many people keen for the new smartphone to be made official. Although the name of the manufacturer has not yet been confirmed, many recent leaks now point to a Motorola Nexus 6. Today we have a new Nexus 6 design to discuss, and this time it's from HTC.
We've reported on two different recent specs leaks (here and here) that could possibly be for the Nexus 6 by Motorola, although at this stage we still have to treat these as rumors. There has also been some recent release date speculation amid claims that the Nexus 6 may in fact be called the Nexus X due to a trademark issue.
We've seen a huge amount of Nexus 6 design ideas already, and although the most recent indications concern a new Nexus from Motorola this hasn't stopped concept designers considering other possibilities. This latest Nexus phone render from Rishi Ramesh shows an HTC Nexus 6, and we'd like to know what readers think about this creation.
It's a simple enough design that reflects some of the recent HTC phones, for example BoomSound speakers to the top and bottom. Included specs are a 2.5GHz Snapdragon 805 processor, 5.5-inch LCD display (probably Quad HD) and 3GB of RAM. Other additions are a 13-megapixel rear camera with 4K video recording capability and a 3.2-megapixel front-facing snapper.
Of course this concept Nexus 6 would run Android L (possibly Lemon Meringue Pie), and it has a gunmetal finish that many Nexus fans would find very appealing. We'd be very interested to hear from readers waiting for the Nexus 6 to hear opinions on this concept HTC version.
What do you think about this HTC Nexus 6 design, and is it something you would like to see reflected in the real deal? Maybe you're happy that it looks more likely that Motorola will be producing the next Nexus smartphone? Drop us your comments in the box below.
Source: nexus6now
Via: Concept Phones