New Samsung Galaxy Note 5 idea features an added extra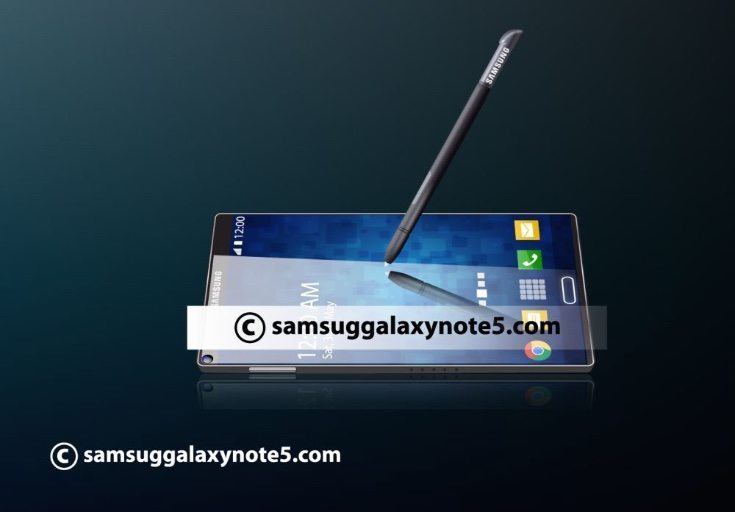 Now that the Samsung Galaxy S6 has arrived, attention has well and truly turned to the Samsung Galaxy Note 5. Of course nothing is official about Samsung's next flagship phablet yet, but one thing we are seeing is plenty of concept ideas. These can offer some interesting prospects and today's new Samsung Galaxy Note 5 idea features an added extra.
When the Galaxy S6 was made official back in March we wrote about how it indicated some possible specs for the Note 5. The Samsung Galaxy Note 5 looks likely to be introduced pre-IFA Berlin in September, although there were recent rumors that it could release sooner than usual. While we're waiting we can tease ourselves by looking at some visions of the upcoming device.
This latest design for the Samsung Galaxy Note 5 is rather different, as this one includes a projector that's embedded in the reverse of the phone. The idea is to be able to change a room into a mini cinema, and the projector features 3LCD technology. Another notion with this render is to incorporate the Home button into the touchscreen itself.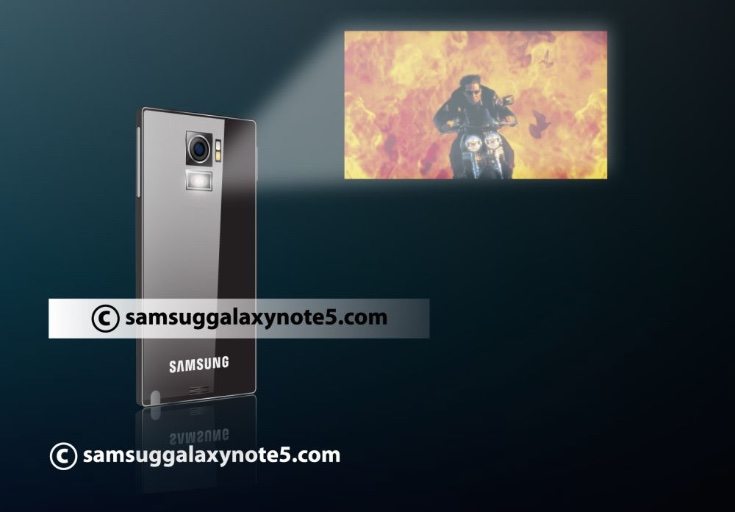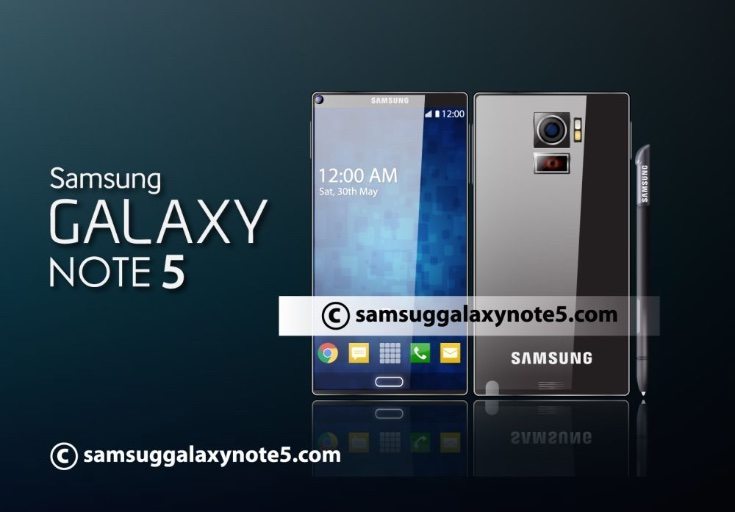 As for the phone's appearance, it's the usual rectangular slab with very narrow bezels to the display and a shiny reverse, perhaps suggesting glass on the back. Also pictured is a new-look stylus for the Samsung Galaxy Note 5. Some specs for this device could include a 3.2GHz Exynos octa-core processor, and a 5.9-inch Quad UHD Super AMOLED display resulting in more than 660 ppi.
Further specs might be 4GB of RAM, internal storage models of 32 or 64GB (expandable via microSD to 128GB), a 19-megapixel rear camera, 4.7-megapixel front-facing snapper. It would be running the Android M operating system. We'll remind you that these are not official specs for the real deal, but interesting possibilities nonetheless.
We've shown just a few of the images of this render here, but you can see more at the source. If you've enjoyed this concept Samsung Galaxy Note 5 design you might also want to take a look at a couple of other recent renders for this phablet (1) and (2). We'd welcome your thoughts on this latest Samsung Galaxy Note 5 vision so why not drop us a comment.
Source: Samsuggalaxynote5.com
Via: Concept Phones