iPhone 4S running iOS 9 beta 1 vs iOS 8.3 quick speed test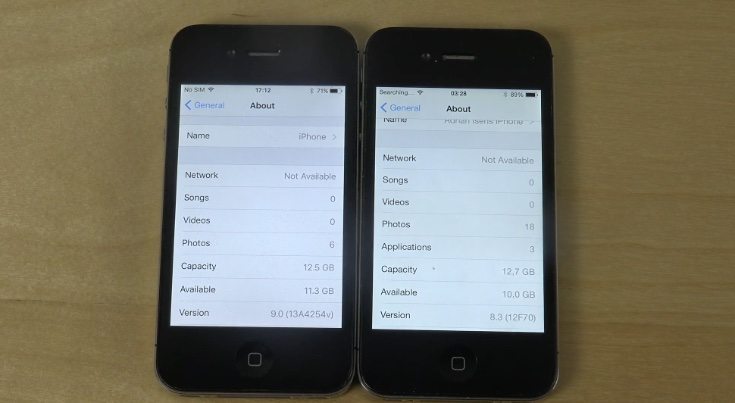 There's plenty of attention right now on iOS 9 that will be available for a public release in fall. The first beta is already in the hands of developers and there have been plenty of looks at iOS 9 on the iPhone 6. Sometimes though, we think it's just as interesting to see an upcoming iOS version on an older device. Therefore today we're showing the iPhone 4S running iOS 9 beta 1 vs. iOS 8.3 in a quick speed test.
You can see our compatibility list for devices that will be able to receive the iOS 9 update, and the 4S is the oldest iPhone that will get this upgrade. At present the latest iOS version available to the public for the iPhone 4S is iOS 8.3, although iOS 8.4 is also presently in beta. We've previously shown a bootup speed test of an iPhone 4S on iOS 8.4 beta 3 vs. iOS 8.3, so now it's time for a later look.
The YouTube video that you can view below this article comes from one of our favorite YouTubers Adrianisen. It shows an iPhone 4S on the first beta of iOS 9 on the left alongside an iPhone 4S running iOS 8.3 on the right. It will be good to see if iOS 9 increases the speed of the iPhone 4S and a quick bootup test is conducted. Both phones are simultaneously powered up to see which one is ready to go first.
You may be surprised that this time at least it's the handset running iOS 8.3 that is the faster, in fact the difference in startup speed between the two is rather noticeable. However, as we've pointed out before we must remember that this is just the first beta of iOS 9 and speeds may be improved by the time it gets to the final build. The video also gives a brief look at some of the changes in the interfaces of these versions of Apple's mobile operating system.
If you want to see more about iOS 9 you can see a features video that we've shared previously, and also an iPhone 4S iOS 9 review. Scroll down to today's bootup test and when you've taken a look we'd welcome your comments. Are you surprised that the iPhone 4S on iOS 8.3 beat the one on iOS 9 beta 1?
https://www.youtube.com/watch?v=oBwxesSDgzE://