OnePlus 2 Bluetooth certification shows three models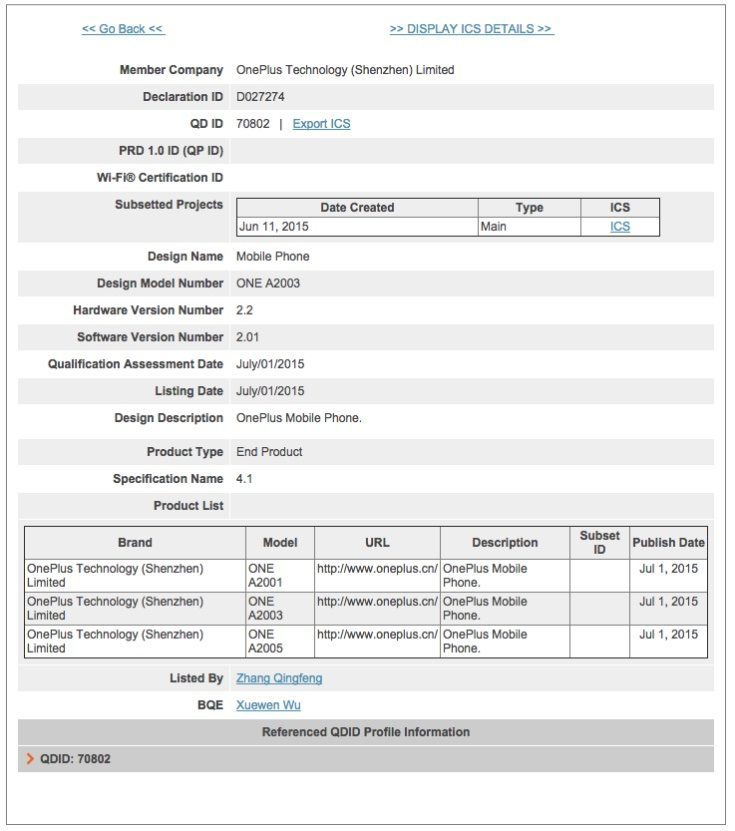 The OnePlus 2 has to be one of the most eagerly anticipated smartphones of the year. Its predecessor, the OnePlus One 'flagship killer,' has been hugely popular, and the pressure is on for OnePlus to meet demand this time around. Now we have some further info on the OnePlus 2 (aka OnePlus Two), with news that Bluetooth certification shows three models of the phone.
There have been plenty of leaks about the OnePlus 2 and the manufacturer has also been giving us a slow trickle of details more recently. We know that it will pack a Snapdragon 810 chipset, and a fingerprint sensor has also been confirmed for the device recently. Over the weekend we also saw some leaked images purporting to be of the device, although we're not yet convinced that they were authentic.
Now the OnePlus 2 has shown up at the Bluetooth SIG for certification, and the filing specifies three different variants of the phone. These are the OnePlus 2 A2001, A2003, and A2005. All three models have received certification for hardware version 2.2 plus software version 2.0.1 Bluetooth 4.1.
At this stage the details aren't clear, but it's thought that the A2001 will be the base model featuring a Snapdragon 810 processor and 3GB of RAM while the OnePlus 2 A2003 will also feature the Snapdragon 810 chipset but step up to a tasty 4GB of RAM. There's no news yet on the OnePlus 2 A2005 but one possibility is that this will be the version with the most internal storage.
Thankfully there's not too much longer to wait until we find out all of the specs, price and more, as the OnePlus 2 is set for a virtual reality launch on July 27. No doubt between now and then we'll hear more developments, and you can be sure we'll keep you informed.
Are you one of the many potential buyers of the OnePlus 2 smartphone? What for you are the killer details that it needs to have? Let us have your comments.
Sources: Bluetooth SIG AND Geekbench Browser
Via: Droid-Life