Prospective iPhone 7 component shown in leak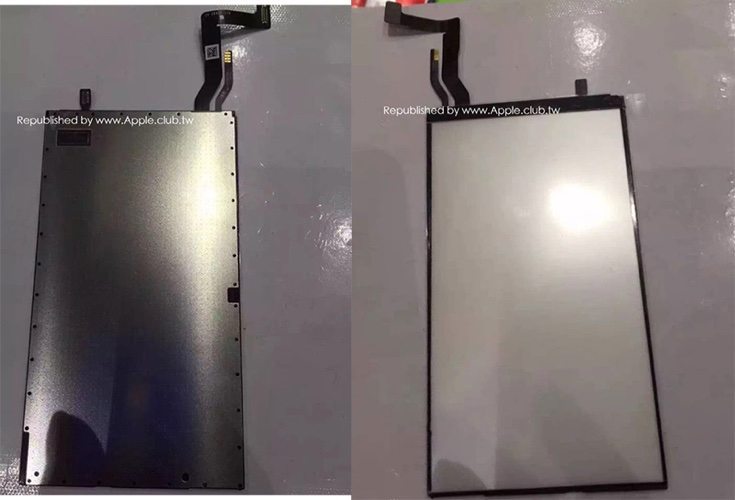 With the start of the new year the amount of leaks ahead of the iPhone 7 release are already ramping up. Now a prospective component of the iPhone 7 has shown up in a fresh leak. We say 'prospective' because there's a possibility that it could be from the upcoming new 4-inch iPhone. However, we don't think that's likely and we'll explain why.
The image below is a backlight assembly purportedly for the display of the iPhone 7. The picture emerged from a Taiwanese website and does appear similar to the existing backlight component for the current iPhone 6S and iPhone 6S Plus. There are some differences though as the LCD flex cables and 3D Touch chip are repositioned.
The same Apple.club.tw site also suggests the possibility that this part could be for the heavily rumored upcoming 4-inch iPhone, usually referred to as the iPhone 6C or sometimes the iPhone 7C. Previous leaks have implied that the new smaller iPhone would not feature 3D Touch force touch technology though, and this is why we think it's more likely to be an iPhone 7 component. It's difficult to tell from an image but this backlight assembly also looks as though it's for a larger phone than a 4-inch handset.
It's worth noting that the Taiwanese website concerned has a mixed record of accurate leaks about upcoming Apple devices, although they were correct about the protruding camera lens on the iPhone 6 as well as the logic boards of the iPhone 6 and iPad Air 2. This image certainly looks plausible as an iPhone 7 component leak, but for now we should remember that this is unconfirmed.
In other recent iPhone 7 and iPhone 7 Plus news there has been an indication that it will lack a 3.5mm audio jack and will instead include an all-in-one Lightning connector. This would enable the handset to be even slimmer and also include waterproof qualities. Other rumored inclusions are a non-metallic build with no antenna bands showing, an Apple A10 chip from TSMC, 3GB of RAM, a 256GB internal storage option, and a higher capacity 3100 mAh battery.
It's a case of wait and see, but you can be sure that there will be many more leaks and rumors before the eventual iPhone 7 release. What are your thoughts on this latest leak? Do you think the component shown in the image is likely to be for the iPhone 7? Let us have your comments.
Source: Apple.club.tw
Via: MacRumors