iPhone 6 render with iOS 9 and slimline style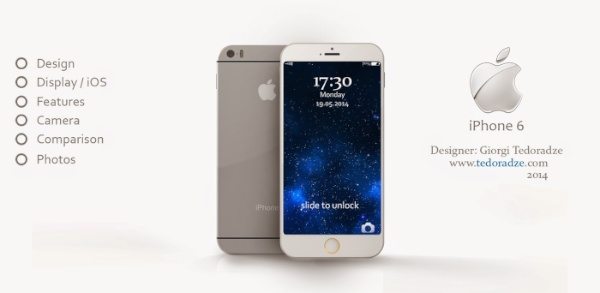 The Apple iPhone 6 is a huge subject of interest right now, ahead of its expected release in fall. All the evidence suggests two model sizes, one with a 4.7-inch display and the other at 5.5-inches. We've already seen numerous iPhone 6 design ideas and they can be interesting as they highlight all sorts of possibilities. Today we want to show you an iPhone 6 render with iOS 9.
This concept comes from designer Giorgi Tedoradze and we previously shared an earlier iPhone 6 vision from him last year that you can see here. This latest design is for the 4.7-inch version of the iPhone 6, although seeing as it's sporting iOS 9 perhaps it should have been dubbed the iPhone 7.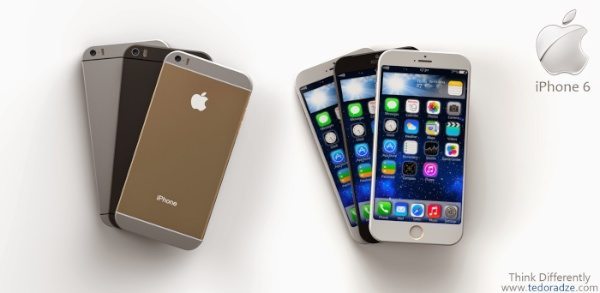 The images we've included here show an iPhone 6 that weighs 118g and has dimensions of 130.7mm x 63.2mm x 6.8mm with an aluminum casing. It has a 1.6GHz Apple A7 quad-core processor, a 4.7-inch display with resolution of 1436 x 840, a 10-megapixel rear camera with optical image stabilization, 2-megapixel front-facing unit, and a 2450 mAh battery.
The power button is now positioned on the right of the handset and you'll also find the Touch ID fingerprint scanner feature. One of the improvements shown for iOS 9 enables easier one-handed use, as screen areas are redistributed to correspond with your needs, a good idea for iPhone users getting used to a larger handset.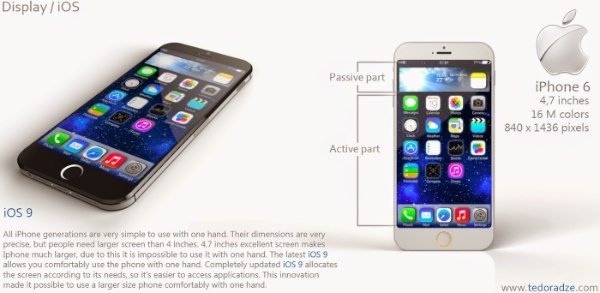 We've shown just a few of the images of this iPhone 6 vision, but there are a whole lot more at the source link below. As for the real iPhone 6 our most recent articles include an image purporting to be of iPhone 6, iPad Air 2 and iPad mini 3 models, and also an image of a leaked component said to be for the 5.5-inch version.
You might also like to check out a couple more recent concepts of the iPhone 6 here and here. What are your thoughts on this latest render for the iPhone 6? Do you like the early idea for iOS 9 that is shown? What's on your own list of requirements for the next iPhone? We're always interested to hear from readers so do please send us your comments.
Source: Giorgi Tedoradze
Via: Concept Phones