T-Mobile has confirmed Android Marshmallow update for 17 devices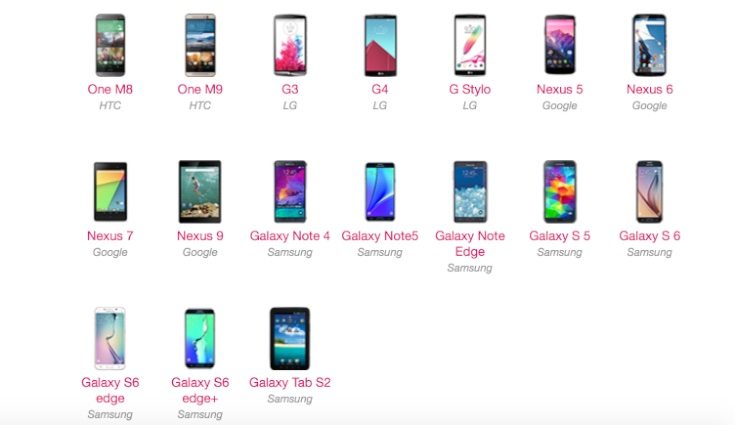 Since Google officially took the wraps off Android 6.0 Marshmallow last week, there have been many people wondering if and when their device will receive the update. We've been bringing news about this regarding various manufacturers and now T-Mobile has confirmed the Android Marshmallow update for 17 devices that it carries.
Although we've reported on Android Marshmallow release news for Google Nexus devices as well as Samsung, LG, HTC, and recently Motorola, it's always good to see official news from one of the big carriers. T-Mobile US has amalgamated the details so if you're a customer you can easily find out if your device is one of those planned to receive Android 6.0 so far.
If you own an Android device you will already know that software updates can take varying amounts of time to reach different regions and specific carriers. The list shows devices on T-Mobile that the software update is currently planned for, sorted by manufacturer. The update is already available via factory images for the Nexus devices on the list, but there are no release dates showing yet for the other devices. At least it's confirmation that the update will arrive for these smartphones and tablets at some point though.
– HTC One M8
– HTC One M9
– LG G3
– LG G4
– LG G Stylo
– Nexus 5
– Nexus 6
– Nexus 7
– Nexus 9
– Samsung Galaxy Note 4
– Samsung Galaxy Note 5
– Samsung Galaxy Note Edge
– Samsung Galaxy S5
– Samsung Galaxy S6
– Samsung Galaxy S6 edge
– Samsung Galaxy S6 edge+
– Samsung Galaxy Tab S2
Interestingly we had seen indications that the LG G3 and LG G4 would receive the update, but we also see the LG G Stylo on T-Mobile's list. Please note that some manufacturers have also confirmed the update for some of their devices not on this list (see above links), but these are the ones confirmed by T-Mobile.
If you head to this T-Mobile software update page you can see that the carrier spells out that updates can be a long process and details the stages that they have to go through before release. Firstly there is manufacturer development and this is followed by T-Mobile testing before the process is finally completed. If you find your device on the support page simply click on it to find further information about the status of the upgrade.
Are you eager to get the Android 6.0 Marshmallow update for your device? If you're a T-Mobile customer is your smartphone or tablet on the software upgrade list? Let us know with your comments.
Via: Pocketnow