Motorola Razr i vs iPhone 5 vs SGS3: spec-tacular choices
There seem to be an abundance of new and upcoming smartphones at the moment and today we heard about the arrival of yet another, the Motorola RAZR i, due for a release next month. If you're overwhelmed with the choice available we'd like to give you a look at the Motorola RAZR i vs. the iPhone 5 vs. the SGS3 (Galaxy S3 or S III). We'll detail some of the key specs and features of these three phones to give you some idea of which might be the right option for you.
The Samsung Galaxy S3 is of course already released and has been for some months but without doubt this is a big customer favorite and still a good selection for Android enthusiasts. Meanwhile the RAZR i is another Android handset that will be released in some regions in October. If you want an Android alternative or are simply an Apple fan then you could well decide to upgrade your current phone to the iPhone 5, due for release in just a few days on September 21. However as we discussed earlier today, pre-orders sold out within an hour and there are many who won't be able to get their hands on this phone for a few weeks yet.
We'll begin with the key specs and features for the Motorola RAZR i, announced earlier today as the first Motorola smartphone with an Intel processor. We know that this will have a 2GHz Intel Atom processor, a 4.3-inch AMOLED display with resolution of 540 x 960 and an 8-megapixel rear camera with it taking under a second to start the camera app and a dedicated camera button plus 1080p video capture. There's also a VGA front-facing shooter and the RAZR i includes 1GB of RAM, 8GB of internal storage (expandable via microSD to 32GB), NFC, WiFi 802.11 a/b/g/n, Bluetooth v2.1 and a 2000mAh battery.
We think this is a good-looking handset and it features robust Kevlar casing which is also water-repellant, a handy bonus. It will release running Android ICS with an update to 4.1 Jelly Bean to follow at some point. Dimensions are 122.5mm x 60.9mm x 8.3mm and it weighs in at 126g and it comes in black with a white option to follow. You may like to check out our earlier article with a hands-on video look at the RAZR i and you can also see the Motorola press release for the phone here.
Moving on to the Apple iPhone 5 we can tell you this has the new Apple A6 processor, a 4-inch LED-backlit IPS TFT display with resolution of 640 x 1136, 8-megapixel rear camera with 1080p video recording capability and also a 1.2-megapixel front-facing camera. There's 1GB of RAM and it comes in 16, 32 or 64GB storage options (not expandable), has WiFi 802.11 a/b/g/n, Bluetooth v4.0 and a standard Li-Po battery. A fact that will please many people is that the new iPhone now has LTE connectivity.
Another bonus for the iPhone 5 is that it will launch running the brand new iOS 6 that is heading for a public release tomorrow, just two days before the release of the phone. Dimensions of the iPhone 5 are 123.8mm x 58.6mm x 7.6mm and it weighs just 112g. There are two color options, Black with Slate and White with Silver and although there has been criticism of the new iPhone as there was not a huge design change, the overall look is still stylish and shows up it's top-notch materials and production. To see more about the iPhone 5 head to this Apple page.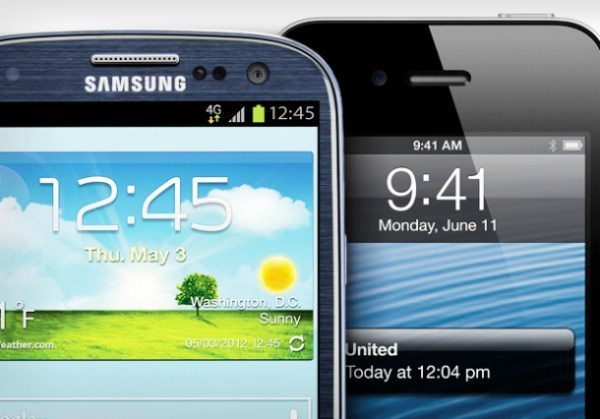 Finally we move on to the Samsung Galaxy S3 and we'll start off with the 1.4GHz Exynos quad-core processor, 4.8-inch HD Super AMOLED display with resolution of 720 x 1280, 8-megapixel rear camera with 1080p video capture and 1.9-megapixel front-facing camera. Other inclusions are 1GB of RAM, 16, 32 or 64GB of storage (expandable via microSD), LTE connectivity, WiFi 802.11 a/b/g/n, Bluetooth v4.0 and a 2100mAh battery.
The Galaxy S3 launched with Android 4.0 ICS but should be receiving an update to 4.1 Jelly Bean in the next few weeks. It released in two color options, Marble White and Pebble Blue and other colors that have been added include Amber Brown, Garnet Red, Sapphire Black and Titanium Gray but bear in mind those may only be available on certain carriers. Dimensions are 136.6mm x 70.6mm x 8.6mm and it weighs 133g. One of the only criticisms of the Galaxy S3 when it came out was it's rather bland design and plastic feel but of course this is very much down to personal taste. If you want to read what Samsung has to say about this flagship device head here.
Obviously this is just a comparison of basic specs but all of these have other things to offer such as the Galaxy S3's S voice, the Siri personal assistant on the iPhone 5 and the water-repellent casing of the RAZR i. There are many other examples of additional individual offerings and you'll find details of these at the manufacturer's links in this post. Hopefully though, we've provided you with plenty of information so that you may now already know which option you would choose and we'd like to hear from you about this.
If you are in the market for a new smartphone might you choose the RAZR i, the Galaxy S3 or the iPhone 5? If you've made a choice let us know what was the deciding factor for you by sending your comments to us using the box below.