Best Christmas 2012 smartphone wishlist
Blimey hasn't the year passed quickly, it wont be that long before Christmas is upon us, and no doubt there will be many hoping to find a new top notch smartphone in their Christmas stocking, or maybe considering a smartphone as a gift for their loved one this Christmas, especially when smartphones make such a good present don't you agree? But which handset to choose becomes a real task.
This year the mobile space has seen quite a few top notch smartphones come out to play, and obviously more will be hitting the mobile space in time for the holiday buying season and right up until the big day, so the choice is a varied one to say the least.
Obviously a guaranteed best seller in the run up to Christmas 2012 has to be the latest iOS handset from Apple, the iPhone 5, which now offers customer a bigger touch screen at 4-inches, along with Apple's latest operating system, iOS 6, an 8 megapixel camera, and Apple Maps, which hopefully Apple will get sorted by the time Christmas hits.
However, the iPhone 5 isn't the only hugely popular smartphone out there, as many prefer its Android rival the Samsung Galaxy S3, a device that is going great guns in the Android space and offers a very nice 4.8-inch touch screen, 1.4GHz quad core processor, 8 megapixel camera, runs Android Ice Cream Sandwich, and let's not forget, will be upgraded to Android Jelly Bean before Christmas, other than in the US as previously reported.
Then there's the Samsung Galaxy Note 2 to consider, the new big baby in Samsung Android devices that offer a massive 5.5-inch HD touch screen along with a powerful 1.6GHz quad core processor, 8 megapixel camera, Android Jelly Bean OS, a large 3100mAh battery, along with S-Pen functionality, S Note and S Planner, and is sure to be one of those handsets high up on people's Christmas wishlists.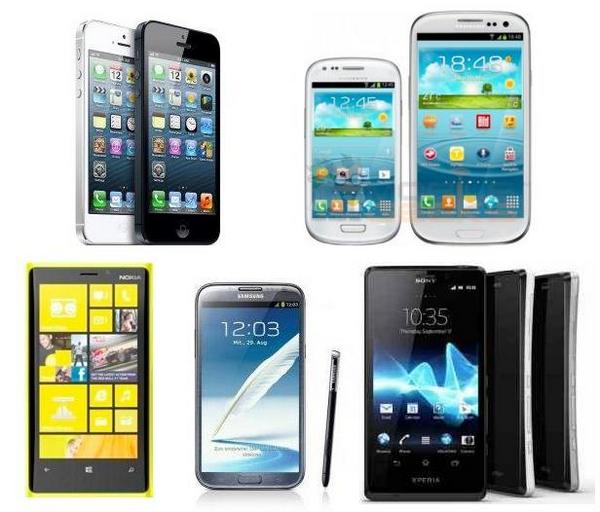 Another Sammy handset is the new Samsung Galaxy S3 mini, a smaller version of its bigger brother, and yet another smartphone coming with Android Jelly Bean aboard, but does have a few lower specs that the full sized handset, such as a 4-inch touch screen and 5 megapixel camera and a 1GHz dual core processor, but then there are some that prefer a smaller sized handset so the Galaxy S3 mini might be the Android device they are looking for.
Naturally Apple and Samsung aren't the only players in the mobile space with handsets available or coming before Christmas, as there is Nokia and their Windows Phone 8 handsets such as the Nokia Lumia 920 which offers a 4.5-inch IPS touch screen with PureMotion HD display, an 8 megapixel camera with Carl Zeiss optics and PureView technology, a 1.5GHz dual core Krait, 2000mAh battery the WP8 OS and is expected to arrive in November.
Or perhaps you are a fan of Motorola handsets such as the Motorola Droid RAZR HD with its 4.7-inch Super AMOLED HD touch screen, 8 megapixel camera, 4G LTE, NFC, Android Ice Cream Sandwich OS and its 2530mAh battery, or maybe you prefer the Motorola Droid RAZR MAXX HD because of its massive 3300mAh battery.
Or if you are a fan of Sony handsets what about the Sony Xperia T that has a 4.55-inch touch scree, Mobile Bravia Engine, a 13 megapixel camera, 1.5GHz dual core processor, 1850mAh battery, and runs Android 4.0.4, or maybe one of the other Xperia handsets that are already available.
Maybe you are an Android fan waiting for the new LG Nexus to make its appearance and would lover to have the device for Christmas, with its rumoured specs including a True HD IPS display, Snapdragon S4 quad core processor, 8 megapixel camera, and Android 4.2 Key Lime Pie, although these haven't been confirmed.
Obviously we haven't covered all the Best Christmas 2012 smartphone wishlist possibilities in this article, but there are a few to go on with, and we have haven't mentioned a handset that you have on your smartphone wishlist, feel free to share it in our comments area below, along with your view on which smartphone will be the best seller come Christmas 2012.