New iOS 7 features vs. iPhone 5S, iPad 5 and mini 2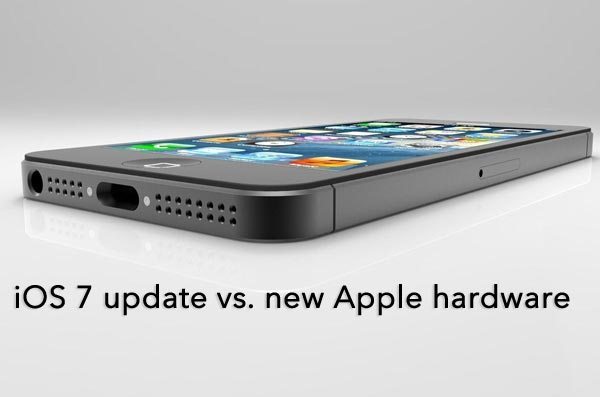 It will be an interesting year for Apple device owners thanks to the iPhone 5S, iPad 5 and iPad mini 2 all expected to be minor upgrades in terms of specs. This is especially the case when looking at the so-called iPhone 5S, expected to feature a release date in September, which the majority of rumors state a more prominent launch will arrive in 2014 with an iPhone 6.
New iOS 7 features vs. new Apple hardware — each year millions of iOS device owners have the choice between a new operating system and new hardware, and for some people the new gadgets are too hard to resist. For others it's an easy choice when Apple doesn't improve the hardware enough, so the majority will most likely skip a generation and wait for the major update.
If you're in a contract then choosing iPhone 5S or iPhone 6 might be easy considering when your phone is up for renewal, although it's not the same for those looking at the second-generation iPad mini and 5th generation iPad.
Apple iPhone 5S, iPad 5 and iPad mini 2 hardware — nothing has been confirmed for any of Apple's next-generation of products, but we might see some clues arrive after iOS 7 beta 1 lands within the next couple of weeks. This is normally the case with the different beta versions, which developers start to find clues for new hardware within the code.
When it comes to iPhone 5S it seems that rumors of the handset releasing with more than one model won't seem to die, and it is clear that size matters most to users and some insiders claim two models of iPhone 5S will arrive but in our opinion this is highly unlikely until iPhone 6.
The new iPhone 5S specs will govern if a lot of users upgrade and hearing about a new patent measuring the closeness of your ear, a big pixel resolution increase and new colors might be enough for some people. On the other hand any device without the name "iPhone 6" could just include minor specs, which users would rather wait another year before upgrading. There's one iPhone 5 and two iPhone 4S's in our office, and all three users state that a minor update by Apple this year would result in them waiting until 2014.
When it comes to the iPad 5 it might arrive with tiny improvements as well, although a leaked case hints at a new design for the next iPad. The 5th generation iPad is expected to feature a bezel similar to that on the current iPad mini, although not much else is known, so we wonder if a specs increase and thinner form factor is enough for our readers? If you own an iPad mini or iPad 4, you might just want to download iOS 7 when it arrives and wait another year before upgrading.
Families that only own one iPad might consider purchasing more if the price is right, and rumors pointing to a low cost iPad mini 2 could help cut down the success of the upcoming Nexus 7 second generation. Most Android users point to the high iPad price as the main factor for giving Apple a miss, so feel free to share the price point you'd like to see with iPad 5 and iPad mini 2?
Do you think you'll go with more than one hundred new iOS 7 features, normally the case with each new update, or do you feel the need to buy the latest Apple gadgets when they arrive? Apple will need to deliver distinctive iOS 7 features and we'll know if this will be the case during the WWDC 2013 preview in just over a weeks time. New features via software or new hardware, what's your plan this year?